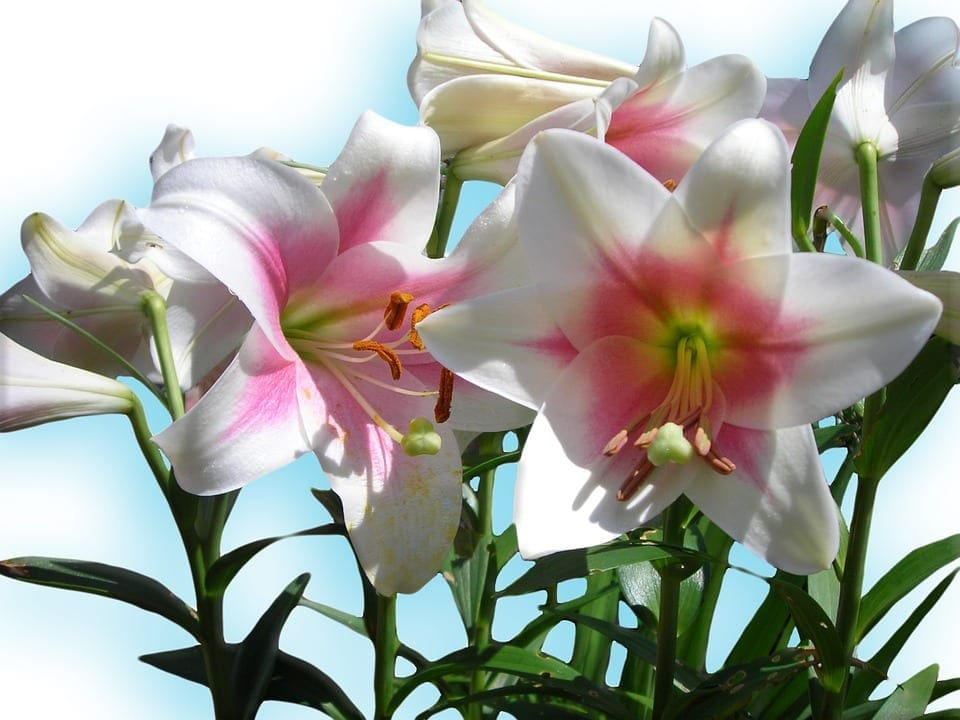 It is the Easter season and a big time for family celebrations. It's also a busy time in veterinary emergency rooms. Chocolate, Easter Lilies, and certain foods are extremely toxic for our pets and there are other temptations that aren't toxic but can cause obstructions that may require surgery. Here are the top five Easter dangers your pet may face.
Chocolate – It contains both caffeine and theobromine which are particularly toxic to pets and can cause severe illness and even death if too much is ingested. If your pet has ingested chocolate, also check to see if it contains raisins, nuts, or alcohol which are toxic to pets as well. If your pet ingests chocolate, contact your veterinarian or emergency vet immediately.
Lilies – All parts of the lily are extremely toxic to cats, who need to ingest just a tiny amount of the plant before suffering from acute kidney damage or severe toxicosis. If you get immediate veterinary help, steps can be taken to help ward off life-threatening problems. The longer you wait, the harder it is to reverse the damage.
Xylitol – The popular sweetener is common in an increasing number of foods. Unfortunately, it is also very toxic to pets. Sugar-free gums and candies are a culprit but it's also important to check the label on foods often considered safe for dogs like peanut butter and some pet treats.
Easter Baskets – There are some dangers in the Easter basket beyond chocolate. The plastic grass and plastic eggs are not toxic to your pet, but can cause obstructions, respiratory, and digestive issues if ingested by your pet. Small toys can also be eaten and may need to be removed surgically.
People Food – It's not uncommon for people to want to share their feast with their pets on a big holiday. However, many of the foods that are fine for people – grapes, raisins, garlic, and onion – are a danger to pets. Rich food also may trigger pancreatitis.
If you're planning to host an Easter egg hunt (for chocolate or real eggs), make sure you keep your pets inside until all the goodies have been located. Remember that accidents and emergencies do happen, even when you're careful. You should always have an emergency plan just in case something happens to your pet.
Know where the closest 24-hour emergency veterinary hospital is located and the best route to get there.
Keep a list handy that includes your pet's medications, special dietary needs, allergies, and other important information about your pet in case you do need to visit an emergency hospital when your veterinarian is closed.
If you have questions about something that your pet has ingested, contact the ASPCA Animal Poison Control Center at 888.426.4435. They are open 24 hours a day, 365 days a year.
If you go to the ER with your pet, bring a sample of what he or she has ingested with you.
Consider getting pet insurance so that you will be prepared financially if there is an emergency.
Accidents and illnesses do happen to pets, even when you follow pet safety tips. Veterinary Specialty Center's Emergency and Critical Care Department is open 24 hours a day, 365 days a year. Our 24-hour emergency facility is located at 2051 Waukegan Road in Bannockburn and we can be reached at 847.459.7535. If you're coming into our emergency room, it does help to call in advance if possible or get in line online for non-urgent cases.