Veterinary Specialty Center (VSC) has been certified as a Level I veterinary emergency and critical care facility by the Veterinary Emergency and Critical Care Society. VSC is the first private practice in Illinois to receive this certification.
The Veterinary Emergency and Critical Care Society (VECCS) offers a certification program to veterinary facilities that provide emergency and critical patient care. The purpose of this certification is to recognize those hospitals that meet and exceed the standards and guidelines published by VECCS. This is done in the hopes of raising the standard of care while also increasing public and professional awareness in the area of veterinary emergency and critical patient care.
This certification program identifies three levels (I through III) based on facility operating hours, equipment, and personnel.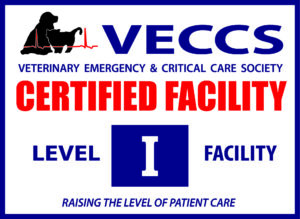 VECCS has identified a Level I facility as such: "A Level I emergency and critical care facility is a 24-hour acute care facility with the resources and specialty training necessary to provide sophisticated emergent and critical patient care. This facility is open to receive small animal emergency patients 24 hours a day, 7 days a week, 365 days a year. The Level I facility must have a Diplomate of the American College of Veterinary Emergency and Critical Care (DACVECC) employed full time and available for consultation either on-site or by phone 24/7."
"This certification is a testament to our highly-skilled, dedicated staff of doctors, technicians, and support staff that have been instrumental in the development of our emergency and critical care department to a Level 1 facility," said Evelyn Feekin, Hospital Director.
VSC currently has three boarded Criticalists on staff along with 12 emergency veterinarians, 3 technician specialists, and a team of CVTs and tech assistants. VSC's comprehensive treatments include ventilator therapy, hyperbaric oxygen therapy, blood transfusions, hemodialysis, plasmapheresis, and a range of other therapies. VSC's emergency team collaborates closely with a team of over 20 specialists throughout the hospital, helping them provide a high level of care for its patients.
For more information in regards to the certification requirements for a Level I facility, please refer to the VECCS website at www.veccs.org under the Facility Certification tab.
About Veterinary Specialty Center
Founded in 1976, VSC is a privately owned veterinary specialty and emergency hospital whose first priority is to deliver unsurpassed healthcare to animals in a kind and comforting environment. The practice includes numerous specialties, including Surgery, Internal Medicine, Medical and Radiation Oncology, Cardiology, Dermatology, Imaging and Radiology, Neurology and Neurosurgery, Nephrology and Hemodialysis, Rehabilitation, Anesthesia and Pain Management, Emergency and Critical Care, Behavior, Holistic Care, and Nutrition. The hospital is headquartered in Buffalo Grove, Illinois. For more information, visit www.vetspecialty.com or Facebook.com/VetSpecialty.
About VECCS
VECCS is an international, professional society of veterinarians, veterinary technicians, and managers dedicated to promote the advancement of knowledge and high standards of practice in veterinary emergency medicine and critical patient care.