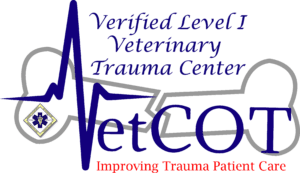 Veterinary Specialty Center is excited to announce that we have received certification as a Level I Veterinary Trauma Center. The designation is through the American College of Veterinary Emergency and Critical Care's (ACVECC) Board of Regents and the Veterinary Committee On Trauma's (VetCOT) Veterinary Trauma Center (VTC) Network.
In January of 2017, VSC was designated as a Veterinary Emergency and Critical Care Society (VECCS) Facility at its top-level – Level 1 – for having the highest standard of care with regard to our staffing, continuing education, emergency capabilities, facility, and in-patient support skills.
VSC received provisional status approval in the VetCOT VTC Network in 2015 and has been documenting cases and working with others in that network while working to get a full designation. The program exemplifies a team-based approach to trauma care. It also recognizes hospitals that are continually working to improve their processes, enhance education, and work to collaborate both internally between specialties and externally with other trauma centers. The VECCS facility certification (Level 1) was needed as part of our application to be accepted as a trauma center.
VSC First Chicago-Area Hospital to Receive Designation
"It is exciting to see our hospital and team recognized for their strong collaborative effort," says Jennifer Herring, DVM, MS, DACVECC, director of VSC's ECC team and internship initiative. "We have always strived to provide the best quality of care for our patients and have welcomed the challenge to work with other hospitals that strive for excellence in their ER and also value collaboration beyond their hospitals."
VSC was the first hospital in the Chicago-area to receive the Level I Veterinary Trauma Center Certification and one of just 8 hospitals internationally to receive the Level I Trauma Center designation. Along with Dr. Herring, VSC has three other boarded Criticalists on staff – Kara Osterbur, DVM, MS, DACVECC; Laura Ilie, DVM, MS, DACVECC; and Sarah Deitschel, DVM, DACVECC.
VSC's team is also comprised of 13 emergency veterinarians, 3 technician specialists, and a team of CVTs and tech assistants. Our comprehensive treatments include ventilator therapy, hyperbaric oxygen therapy, blood transfusions, hemodialysis, plasmapheresis, and a range of other therapies. The emergency team collaborates closely with a team of over 20 specialists throughout the hospital helping them provide the highest level of care for our patients.
Here are some of the stories of pets our emergency team has assisted.