We've always felt that as a locally owned business, we have had a responsibility to our community beyond providing outstanding medical services for the dogs and cats we treat. We're excited to announce that VSC has become the first U.S. veterinary hospital to become a Certified B Corporation (B Corp).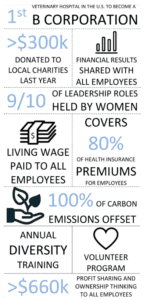 We became a Certified B Corp because we wanted to join other like-minded organizations that strive to improve their social and environmental impact. We pride ourselves on being innovative within our industry and hope that others will be inspired as well.
For over a year, VSC has worked to meet some very rigorous standards that focus on our social and environmental performance along with our accountability and transparency as a business. As part of this process, we have offset 100% of our energy for greener alternatives, enacted recycling and composting programs, and have launched employee-focused internal programs that highlight our community commitment.
There are currently over 2,500 Certified B Corporations from over 50 countries and 130 industries all working towards one common goal – a goal to better our community and planet. VSC will be among other great companies like Patagonia, Ben & Jerry's, and Seventh Generation. Learn more at bcorporation.net.