VSC's new 8,600 square foot pet rehabilitation center is now open at 1495 Busch Parkway, one block west of our main location. The rehabilitation team will use low-stress handling and positive reinforcement techniques with patients as they expand programs to the new 3,600 square foot gym area which will allow us to use a multimodal approach to improve our patient's comfort and mobility.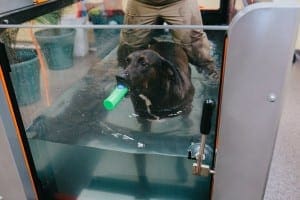 We now have the ability to incorporate modalities (such as laser therapy and acoustic compression) along with both land and underwater treadmill therapeutic exercises within a single appointment. All of the therapies complement each other to give pets the best possible outcome. We will be using a very tailored approach for each pet's treatment plan.
Another option that is available for monitoring a pet during treatment is Thermography. VSC is the only veterinary clinic in Illinois offering Thermography, which is a high-definition digital map that detects some conditions and abnormalities by using temperature patterns.
Thermography not only helps us diagnose orthopedic and other health issues in pets, but it also helps us illustrate progress during therapy treatments. It will aid us as we continue to update treatments to help a dog or cat in the healing process.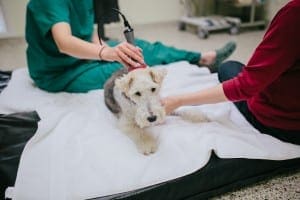 The new facility will have two underwater treadmills, an exercise gym for pets, cold laser therapy, acoustic compression therapy, TENS and more. Along with offering post-surgical programs for our orthopedic patients, VSC's rehabilitation team will also be utilizing the gym area to offer programs for pets dealing with arthritis and obesity. Other classes aimed at teaching pet families how to work out with their dogs will also be offered.
Appointments may be scheduled by calling 847.459.7535 or by email at rehab@vetspecialty.com.