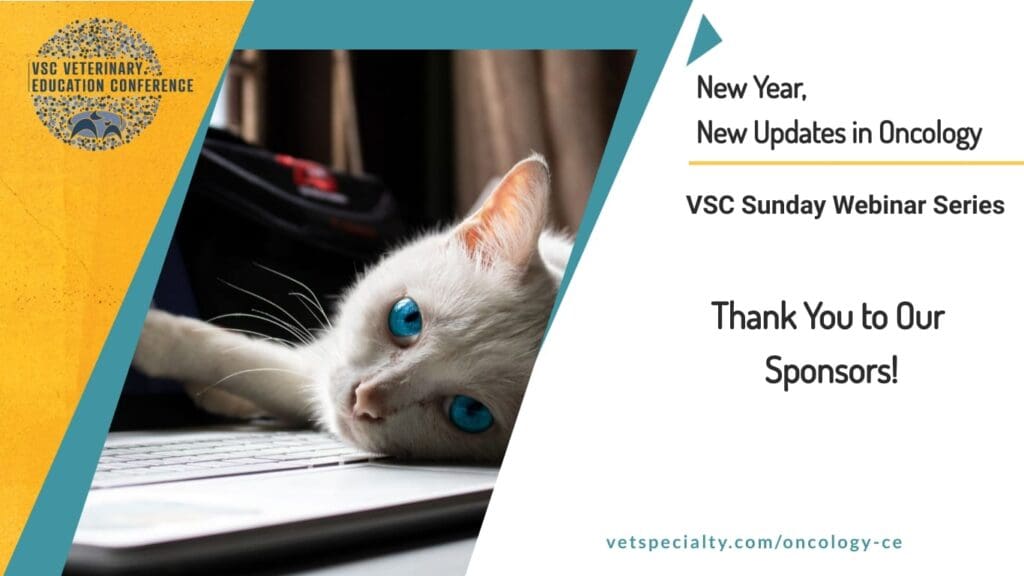 We would like to thank our sponsors for their support of our continuing education programs.
While we continue with virtual learning programs, we wanted to create an area where our event attendees are able to connect with our sponsors. We are sharing our sponsor page the week before and after our larger events so that you can learn more about each sponsor and take advantage of the special promotions they are offering our attendees.
Please check out our sponsors virtually and reach out to them to let them know you've attended this event. We appreciate everyone's support while we continue to stay safe online.
Webinar Sponsors

Learn more about Elanco here.
If you would like to be connected to your sales representative or have additional questions, reach out to Anne Gross at anne.gross@elancoah.com or call her at 312.270.6124.
---

Epicur Pharma® is an FDA 503B registered facility offering traditionally compounded drugs that are manufactured. Try Epicur's quality today by taking advantage of a special promo for this webinar of 20% off the following –
Buprenorphine injection
Gabapentin tablets
Tacrolimus eye drops
For available strengths/sizes, go to epicurpharma.com. All products ship the same day!
Order today at 888.508.5032.
Promo ID: VSC IL 0221
Offer expires 4/30/21
Unlike a 503A compounding pharmacy, as a 503B facility overseen by the FDA and according to federal law, you may purchase Epicur drugs for dispensing when medically necessary and unlimited office administration per Federal law (FDA Federal SEC. 503B. [21 U.S.C. 353b])
To learn more about Epicur, reach out to our Chicago-area representative Sam Newton at 856.242.4705 or snewton@epicurpharma.com.
---

Fresenius Kabi is a leading global health care company that focuses on pharmaceuticals and medical devices used to care for critically and chronically ill patients inside and outside the hospital. Fresenius Kabi products include intravenous specialty and generic medicines, transfusion technologies, infusion therapies, clinical nutrition and related medical devices. Learn more about Fresenius Kabi here and Infusion Pumps here.

For more information on Fresenius Kabi and how our products may support you in your practice please contact Alvaro Esparza at 847.550.2713 or Alvaro.Esparza@Fresenius-Kabi.com or Jeremy McGough at 314.722.0393 or Jeremy.McGough@Fresenius-Kabi.com.
---

Learn more about Varian here.
To learn more about TrueBeam and other products from Varian, reach out to our representatives Amie Harrell at Amie.Harrell@varian.com or call her at 650.766.3902 or Eric Stewart at Eric.Stewart@varian.com or call him at 214.354.3330.
---

Learn more about STELFONTA, an innovative treatment for Mast Cell Tumors (MSTs) in dogs and look for Virbac's video during the sponsor break.

To learn more about STELFONTA and other products from Virbac Animal Health, reach out to our Chicago-area representative Alissa Scott at alissa.scott@virbacus.com.
---

Wedgewood Pharmacy is offering Free Rx Discharge Instruction Pads for veterinary clinics and hospitals that request them here. Each pad includes 25 tear-off sheets with easy prescription filling instructions for your clients.
Great care, delivered. That's our promise to you and your clients. Over 80% of the nation's veterinarians choose Wedgewood Pharmacy as their source for compounded medications. We want to help you and your practice succeed – contact your Chicago-area representatives Deanne Pawlisch (email: dpawlisch@wedgewoodpharmacy.com or phone: 602. 903.2591) or Abby Calfo (email: acalfo@wedgewoodpharmacy.com or phone: 856.832.1467) today.