Alexandra Resnick, DVM, CVA
Emergency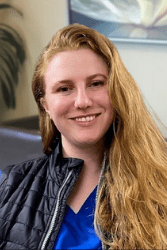 DVM
University of Minnesota College of Veterinary Medicine
Internship
Lakeshore Veterinary Specialists
Professional Memberships
Dr. Alexandra Resnick wanted to be a lawyer when she was growing up. However, friends and family members kept telling her she should be a veterinarian because of her passion for animals and love of science. She switched career paths and hasn't looked back.
What sparked your passion to focus on emergency medicine?
I spent a month living at a free clinic in The Galapagos seeing emergency cases and fell in love with it. I like never knowing what is going to walk in the door, getting to facilitate a patient's going to the specialists that they need to see, and getting to see so many interesting cases. I also like being there for people and hopefully making what may be a really difficult day slightly less awful.
What are some of the biggest challenges in your area of expertise?
There are so many different things that could theoretically come in the door, so one must know how to address anything. That could range from a piece of caramel corn stuck to a patient's leg that the owner thinks is a broken bone that is sticking out of the skin (true story, she thought the dog had attacked her cat when actually he was just trying to eat the caramel corn) to a hit-by-car (HBC) with life-threatening polytrauma. The other challenge is that no one plans nor wants to come to the ER, and emotions can be very heightened. So, while you can get the best of people, you can also get the worst.
Is there a particular case that has inspired you?
We treated a dog that was hit by a car that came into the ER as a big lethargic GSD (german shepherd) with a heart rate of 160 despite being incredibly dumpy looking. She was bleeding internally. The critical care team jumped into action, and the dog ended up having a great outcome. When the family asked how much longer she would have had before she passed if they had not brought her in, the estimation was about an hour. This sweet dog will hopefully now go on to have many more years. That was really inspiring to me.
What do you like to do outside of work?
Taking care of my plethora of animals (I have a horse, two cats, a cockatiel, a crested gecko, and several guinea pigs) as well as hiking and playing my harp.