Alysha Vincent, DVM, Residency-Trained in Internal Medicine
Internal Medicine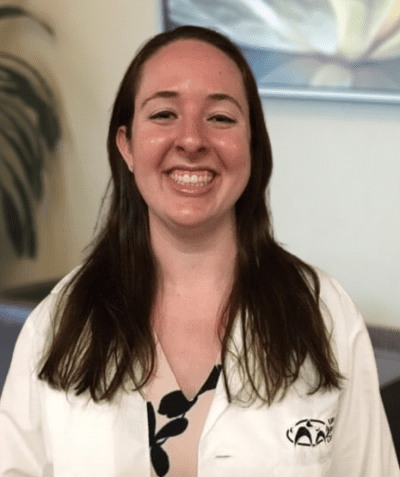 DVM
Michigan State University College of Veterinary Medicine
Internship
Friendship Animal Hospital
Residency
Michigan State University College of Veterinary Medicine
Dr. Alysha Vincent is Residency-Trained in Internal Medicine and is Fear Free Certified
"I want the pet's quality of life, the owner's quality of life, and the bond between the owner and their animal to be at the center of any treatment plan that I make." – Dr. Alysha Vincent
 Dr. Alysha Vincent knew from about the age of seven years old that she wanted to become a veterinarian. As a young child, she was not interested in dolls, instead choosing to push around stuffed animals in strollers.
In fact, her passion for treating her fluffy companions manifested when she opened a stuffed animal vet clinic out of her basement for the neighborhood kids to visit. She even asked for IV poles and bandages for Christmas to make her clinic more realistic and kept medical records for her stuffed animals. From an early age, it was Dr. Alysha's dream to help animals through veterinary medicine.
Why Internal Medicine?
Her passion for internal medicine developed when she realized that it was the discipline that pet owners and veterinarians turned to when everyone is stumped and it's time to regroup. Dr. Vincent loves to investigate all aspects of the pet's history so that she can correlate the presenting problems and develop a comprehensive treatment plan specific to that individual pet.
The Path Towards Internal Medicine
Dr. Vincent attended Michigan State University for her undergraduate degree, her Doctorate of Veterinary Medicine, and her veterinarian residency in internal medicine. She remains a "Spartan through and through".
Before discovering her true calling in internal medicine, Dr. Vincent was initially drawn to small animal and equine medicine, followed by an interest in government and regulatory veterinary work. It was during her senior veterinary student rotation that she fell in love with internal medicine. Although the hours were long and the cases that she was handling were demanding, she loved being able to find solutions or relief for her patients. She quickly realized that internists were smart, funny, and always seemed to be able to save the day. Dr. Vincent was inspired; she knew that "these were [her] people, they're brilliant and hard working. They're the glue that holds the hospital together."
Her love for internal medicine and some of its subspecialties took shape during her internship at Friendship Hospital for Animals in Washington DC where she connected with her first mentor J.D. Foster. He had worked in academia prior to his arrival at Friendship and had a passion for dialysis, nephrology (the study of kidneys), and urology. Dr. Foster's passion for nephrology and teaching and curious perspective on all topics related to kidneys rubbed off on her and inspired her love of nephrology.
Following her internship at Friendship, Dr. Vincent returned to MSU to complete her residency where she was mentored by someone else that was instrumental in fueling her passion for internal medicine Dr. Steve Carey.
While Dr. Carey was willing to cultivate Dr. Vincent's enthusiasm for nephrology and urology, he often joked with her about the importance of life "north of the diaphragm". Dr. Carey's subspecialty of interest is the respiratory system, and it didn't take long for his passion for the nasal cavity and the lungs to rub off on Dr. Vincent too. He was very methodical in the way he approached cases, and taught her to slow down, which she described as probably one of her biggest challenges coming into her residency. She also learned that for a great internist: that the devil was in the details which inspired her to look at the entire case and entire patient in order to reach that elusive diagnosis.
Dr. Vincent is now one of five internal medicine specialists at  Veterinary Specialty Center, where she enjoys the daily rush of practicing internal medicine. She chose VSC because she wanted to work at a collaborative, multi-specialty hospital with great resources for staff, clients, patients and their surrounding referral community.
Getting to Know Dr. Alysha Vincent
When it comes to her work life, there are plenty of aspects of her job as a veterinarian that she loves. In particular, she is motivated by problem-solving and dealing with unique and complicated diseases. She enjoys being constantly challenged and researching her cases.
Dr. Vincent has a very inspirational philosophy of care. "I want them to have the best care possible, but I also want the owner to feel comfortable with continuing that care at home. I want my clients to feel empowered to be a part of their pets healthcare team." This outlook also inspired Dr. Vincent to become a fear free certified veterinarian. Fear Free certification was developed by veterinary industry experts with one goal in mind: to inspire and educate pet owners and veterinary team members to reduce fear, stress, and anxiety as it relates to healthcare for animals, both in the clinic and at home.
Dr. Vincent prides herself on keeping an open line of communication with clients. She understands the importance of keeping clients informed.
Outside of work, Dr. Vincent loves to draw, paint, horseback ride, and spend time outdoors. She is also a huge fan of the band U2 and enjoys attending concerts. Dr. Vincent is looking forward to a new chapter in her life, getting a dog of her own and participating in dog agility and dog sports with her new four-legged friend.
Professional Memberships:
Dr. Vincent likes to remain actively involved in a number of veterinary specialty professional organizations where like-minded clinicians continue to push the frontier of veterinary medicine forward in their specialties. Dr. Vincent particularly values her involvement in the Veterinary Interventional Radiology and Interventional Endoscopy Society (VIRIES) and the American Society for Veterinary Nephrology and Urology (ASVNU). The Interventional Radiology society focuses on sharing clinical experience and new research focusing on minimally invasive techniques for challenging medical conditions. Some of the things this society focuses on are placement of stents (urinary and tracheal), subcutaneous ureteral bypass (SUB) systems, and minimally invasive options for treating intra-hepatic portosystemic shunts.
The Veterinary Nephrology and Urology society focuses on research and advancements in the veterinary field, as it relates to kidneys, bladders, and all things urinary! This society has an active group of specialists both in private practice, research, and academia which allows for collaboration on case questions and research ideas across North American and globally.
By keeping up on the latest research and keeping in touch with the leaders in these respective fields, Dr. Vincent hopes to expand her own knowledge base and the diagnostic and treatment options available to your pets for both minimally invasive procedures and for specific, challenging nephrology and urology cases.
An In-Depth Look at Dr. Alysha Vincent's Work
New Dosage Protocol for Dogs with Addison's Disease
During her MSU residency, Dr. Vincent completed research for a new dosage protocol for dogs with Addison's disease, a very treatable, but potentially life-threatening condition. Once a diagnosis of Addison's disease is made, and the patient is stabilized, routine management of this disease requires two different life-long medications. One of these medications, desoxycorticosterone pivalate (DOCP), can become costly over the lifetime of a dog with Addison's disease, so adjusted dosing protocols are a potential way to effectively treat the disease while decreasing the overall cost of treatment. The study focused on using a lower dose of (DOCP) (half of the label dose) to see if this dose could still effectively treat dogs with Addison's disease.
Addison's disease is often called "the Great Pretender" because it can look like a lot of different things. Some dogs may present with only mild signs of chronic, intermittent gastrointestinal upset (vomiting, diarrhea, decreased appetite). Other dogs with Addison's disease may become profoundly sick and present to a veterinary clinic in shock. These patients are critically ill, but making the correct diagnosis and starting them on the correct treatment plan can be life-saving. Many patients who present in an "Addisonian crisis" (state of shock) can recover completely within just a few days of hospitalization. Although Addison's is a chronic disease that we never really "cure", it is very manageable with medications and dogs that are properly managed can live normal lives after their diagnosis. However, it is a chronic disease, so Addison's disease does require long-term therapy; diagnosed dogs have to take medication for the disease throughout the remainder of their life.
Addison's disease is a deficiency in two particularly important hormones:
Aldosterone, which controls the electrolyte and water balance in the body.
Cortisol, the stress hormone.
Not being able to produce adequate amounts of cortisol or aldosterone means that the dog's body cannot respond to any sort of external or internal stressors. Both aldosterone and cortisol are important in many cells in the body, and thus the clinical signs of Addison's disease can vary widely. Many times though, some type of stressful event will tip the body "over the edge" and the dog goes into what is known as an Addisonian crisis.
A dog diagnosed with Addison's disease needs to continue two treatments for the rest of their life. The first is to give steroids to supplement their lack of cortisol. The second is to give a DOCP injection approximately once a month to supplement their lack of a mineralocorticoid (aldosterone). One of the biggest concerns for clients is that DOCP injections for large dogs can be costly over their lifetime.
The long-term expense of this effective treatment motivated Dr. Vincent and her fellow researchers to investigate using half of the labeled DOCP dose, which dramatically reduces the cost. For some pet owners, that savings can mean the difference between making the difficult choice of treating their pet versus euthanizing them. While some clients may not be able to afford treatment, nobody wants to euthanize a pet that they know they can save, especially with a treatable disease like Addison's.
The study is currently wrapping up the final phases and the results are very promising! Dr. Vincent's paper is expected to be submitted for peer review before the end of 2020.
Using Blood and Urine Biomarkers for Labradors with Copper Associated Hepatitis
Dr. Vincent has also worked on a study that looked at potential blood and urine biomarkers for long-term monitoring of Labradors with a liver condition called copper-associated hepatitis. Dogs with copper-associated hepatitis cannot process copper from their diet normally, which causes a buildup of copper in their liver long-term. Although all animals need a small amount of copper in their diet, and copper is normally stored in the liver, excessive build-up of copper in the liver leads to oxidative damage and inflammation (hepatitis). Left untreated, this becomes problematic later in their life when the liver is no longer able to process toxins appropriately and long-standing copper-associated hepatitis can lead to scar tissue formation in the liver and eventual liver failure.
Although any dog can develop copper-associated hepatitis, certain breeds of dog are thought to be genetically predisposed to the disease including Bedlington Terriers, West Highland White Terriers, Dobermans, Dalmations, and Labrador Retrievers to name a few. A diagnosis of copper-associated hepatitis can only be made with a liver biopsy, but once the diagnosis is made, appropriate treatment for the disease can be prescribed. Treatment typically focuses on changing a patient's diet to a specific copper restricted liver diet, liver supportive anti-oxidants, and giving a medication to chelate the excess copper in the liver to allow the body to eliminate some of it.
Currently, the only reliable way to monitor a patient's response to treatment is with repeat liver biopsies, which is can be costly and does require general anesthesia. The goal of Dr. Vincent's study was to evaluate some newer blood and urine biomarkers that might be able to track a patient's progress and response to treatment in a minimally invasive way with a blood or urine sample. This paper is currently undergoing peer review and is expected for publication by early 2021.
Please contact us to schedule an appointment for your pet with Dr. Alysha Vincent and the Veterinary Specialty Center.