Ashlee Urbasic, DVM, DACVP
Veterinary Diagnostic Laboratory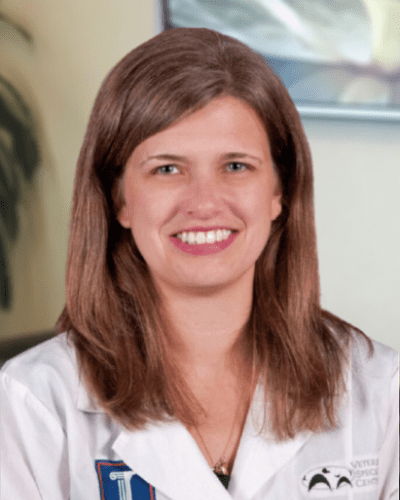 DVM
University of Illinois (Urbana-Champaign)
Residency
University of Illinois (Urbana-Champaign)
Certification
Board Certified by American College of Veterinary Pathologists in Clinical Pathology
Dr. Urbasic worked over 5 years at a large veterinary diagnostic referral laboratory, seeing a large volume of cases daily from small, large and exotic animal species.
In her second year of veterinary school, she was fortunate to obtain a position as an emergency technician in the Veterinary Clinical Pathology Laboratory, and the experience and education she received in the laboratory fueled her interest in pursuing the specialty of clinical pathology after veterinary school. She enjoys searching for and identifying abnormalities and interpreting the findings.
Why did you decide to specialize in Veterinary Pathology?
I've just known from a very young age that I wanted to be in veterinary medicine as I've always been passionate about animal health and welfare. The progression into clinical pathology developed during veterinary school. Clinical pathology is integral to veterinary medicine, and it allows me to be involved with a great number, as well as a great variety of cases. Discussing cases and receiving follow-up on cases from the referring veterinarians is especially rewarding, for the collegiality, in addition to the continuing education, it can provide. Having the opportunity in training clinical pathology residents and daily interactions with the laboratory technologists is also extremely rewarding.
What motivates you every day?
The fun and challenges of cytology; not all samples allow for a definitive diagnosis, but when they do, it is gratifying to know the patient is able to then receive appropriate treatment. And although not always definitive, some findings can also be clues to lead the clinician to pursue additional tests and procedures that can then lead to the definitive diagnosis.
Also, the people I work with motivate me every day; we have a talented, but also fun laboratory staff that makes this a great place to work. It is also enjoyable to collaborate and interact with the rest of VSC.
What do you like to do outside of work?
When I'm not at VSC, I enjoy spending time with my family, reading, bike riding, and cheering on the Blackhawks.