Baruch Caballero, DVM
Emergency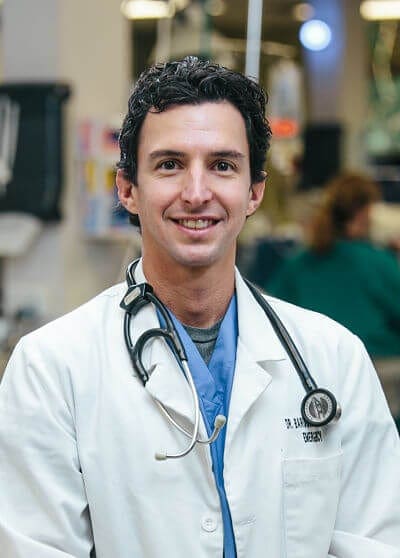 DVM
Ross University of Veterinary Medicine
University of Minnesota School of Veterinary Medicine
Professional Memberships
Growing up in the Caribbean Dr. Baruch Caballero always enjoyed the outdoors, beach and rainforest. With that exposure, he became interested in the great variety of wildlife and developed a passion for animals.
How did you become interested in emergency veterinary medicine?
I enjoy working on everyday cases, not one is alike; you never know what you will encounter on any particular shift. I also like the challenge of dealing with pet owners and trying to explain in an easy and precise manner what may be wrong with their pet. It is important to try and build a bond and trust with owners within minutes.
What is your philosophy of patient care?
Every patient regardless of situation or background will receive the same high standard of care.
What is the most important aspect of being a veterinarian?
I feel it's very important to help educate the pet owners to make the correct medical or non-medical treatment decision for their pets when dealing with an emergency situation. It's also important to make sure that the decision is in the patients best interest.
What motivates you?
Knowing that on every shift I have the opportunity to have a positive impact on someone.
What is your daily inspiration?
Knowing that there is always a way to improve, do things better and more efficiently and in all aspects of life. My family, my wife (who is also a veterinarian) and children also inspire me.
Reviews
"Dr. Caballero and his night crew are amazing–they took great care of my dog, explained all the procedures and gave me thorough follow-up instructions. They were all personable and caring."
~ Roxanne
"We were extremely impressed with Dr. Caballero! He was very compassionate in helping us to decide what to do with the emergency of our cat, Mr. Boopsti. He was also very knowledgeable and helpful. We were able to get a second opinion from the doctor and we came to the hospital because of the fine job that Brittany did in explaining the hospital's services on the emergency phone line. The receptionists were also so very helpful and nice. The facility is so professional, clean and beautiful, I even took pictures of it, I was so impressed. The $99.00 cost for emergency care was very reasonable, considering our catman was at the end of his life and we have spent lots of money on his health in the past month. Thank you again for the expert care.."
~ Cheryl and Gary
"During a scary situation, we entered a clean warm facility with friendly welcoming reception staff and were addressed immediately. The tech, Amber, provided wonderful care. Dr. Caballero spoke to us like concerned pet parents and like we were on his level. He was very informative and straight forward, gave time for questions, and never rushed us. Amber provided great discharge instructions and took the time to answer questions. In a sad event that we need emergent care for any of our 3 dogs, we will definitely make the 45-minute drive just to have your guys' care!"
~ Kara
"Everyone was very professional and caring. We loved Dr. Caballero and the nurse that provided care for our dog. They were very knowledgeable and made sure all our questions were answered."
~ Debbie
"I can't think of how to improve – Dr. Caballero was calm, direct, caring and very careful in his explanation of the situation. All staff was friendly and caring."
~ Michelle