Elle De Ford, MS, PhD, DVM, MCBC, cVMA, TCCC, CCRP
Rehabilitation and Integrative Care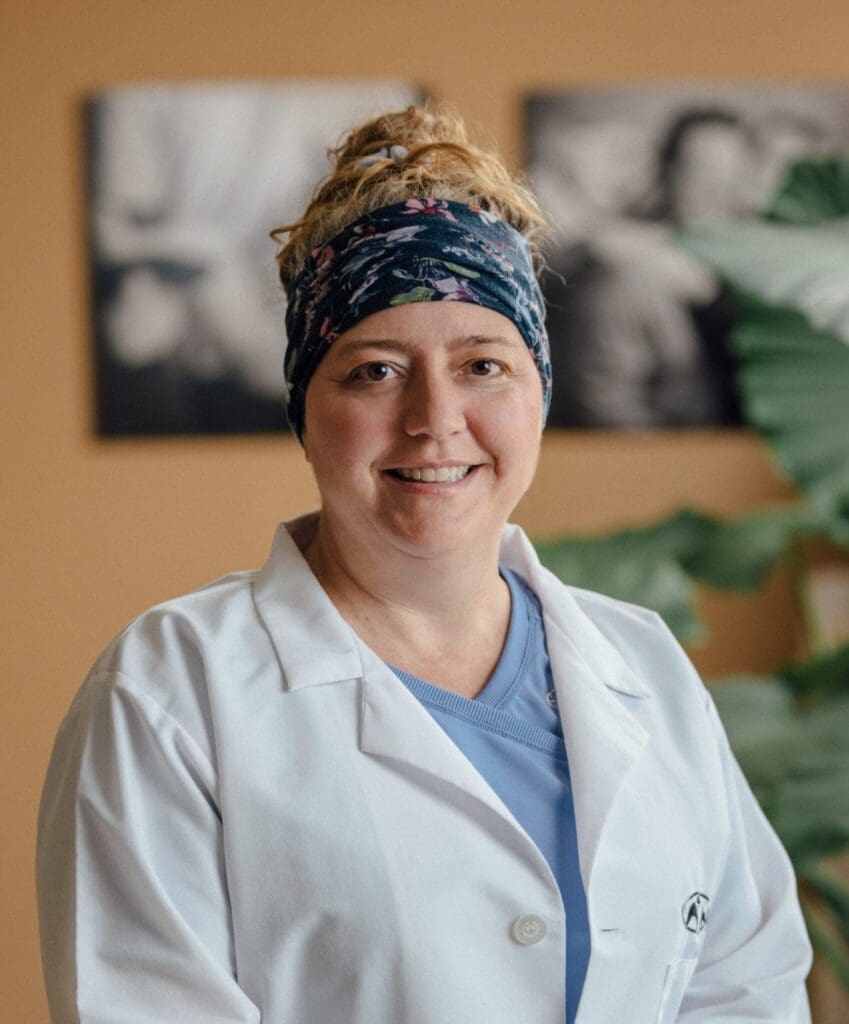 MS
Virginia Commonwealth University
PhD
Virginia Commonwealth University
DVM
Colorado State University College of Veterinary Medicine
Certified Veterinary Medical Acupuncture (cVMA)
Tactical Canine Casualty Care (TCCC)
Veterinary Tactical Group
Management of Chemical & Biological Casualties (MCBC)
US Army Medical Research Institute of Infectious Disease (USAMRIID)
US Army Medical Research Institute of Chemical Defense (USAMRICD)
Certified Canine Rehabilitation Practitioner (CCRP)
University of Tennessee College of Veterinary Medicine
Professional Affiliations
Dr. Elle De Ford is an Army veteran with an extensive background in physiological psychology/neuroscience (neural injury and recovery, stress physiology) prior to expanding her career to veterinary medicine. Her expansion into veterinary medicine has been an effort to help build a bridge between science and medicine. She continues to apply her scientific expertise in stress physiology and health with her veterinary patients. Stress can play a significant role in masking diagnoses, prognostic measures as well as delaying and complicating healing. Minimizing and redirecting stress is an essential part of Dr. Elle's medical approach. Her interest in rehabilitation started in science and grew out of her involvement in physical, behavioral and cognitive performance in working dogs while volunteering in K9 Search and Rescue (SAR) for missing persons.
Dr. Elle, as she prefers to be called, holds a M.S. and Ph.D. in physiological psychology/neuroscience from Virginia Commonwealth University, and completed post-doctoral training in neuroscience prior to accepting a commission into the U.S. Army. Following her military service, she consulted for the Department of Defense then served as an Assistant Professor. Dr. Elle then decided to expand her career into applied veterinary medicine to build a bridge between science and veterinary medicine. She obtained her Doctorate of Veterinary Medicine from Colorado State University.
She furthered her clinical training by becoming certified in Veterinary Medical Acupuncture (cVMA) through CuraCore and Tactical Canine Casualty Care (TCCC) through the Veterinary Tactical Group. She has recently completed the Canine Rehabilitation Practitioner training through the University of Tennessee and plans to take the exam. She also has been certified in the Management of Chemical and Biological Casualties (MCBC) through the U.S. Army Medical Research Institute of Infectious Disease I (USAMRIID) and the U.S. Army Medical Research Institute of Chemical Defense (USAMRICD).
What sparked your passion to focus on rehabilitation?
I have always had an uncanny interest in the recovery of function (mental and physical), especially from neurological injury. While studying neurotrauma and recovery as a scientist, from subcellular mechanisms to cognitive and behavioral performance, I had the privilege of becoming involved in the application of both behavioral and cognitive performance in the working dog through volunteering in K9 Search and Rescue (SAR) for missing persons. I watched as my own search dogs, as well as others, experience lameness and pain in the field and found that while they did not require surgery, many medications offered could interfere with their work. Working through this, I decided to expand my career in neurological injury and recovery and apply what I learned as a scientist through veterinary medicine to help animals, with a soft spot for working dogs, optimize their quality of life and performance in a manner that facilitates healthy mental, physical and social well-being.
What are some of the biggest challenges in your area of expertise?
Rehabilitative medicine can be the 1st line of defense, not just a last resort when nothing else works. It is even more effective the earlier it is administered (e.g., pre-surgical, even pre-injury). If we can use rehabilitative medicine first, before medications, or when first starting medications, we can often reduce overall pharmaceutical medications needed to manage lameness, pain, neuro-dysfunction, etc. Appropriate conditioning (pre-injury) is significantly beneficial, especially in working dogs. Conditioning does not simply mean repeating a task over and over – just as an elite marathoner does not train by just by running. Simply running to condition, will actually result in increased injury risk during events and training as well as the breakdown of tissues such as cartilage, muscle fibers, etc. Rather, various forms of strength, agility, endurance, metabolic conditioning, etc. condition the tissues for running and result in improving event performance.
Another challenge is helping pet owners and K9 handlers understand that just because a pet or working dog may complete a task like chasing a squirrel or agility course, does not mean they are sound, pain-free, or even at their optimal performance. Often times, especially in animals, motivation/drive overrides physical ability. Adrenaline kicks in and instinct takes over, ignoring pain and injury. So even though they run, play, and work, they may still be lame, painful or even have a significant injury. X-rays can even be normal in the face of significant soft tissue injury. Rehabilitative medicine evaluates for orthopedic and neurological injury or other medical illnesses that may contribute to pain, lameness, and even intermittently decreased performance. Rehabilitative medicine can be beneficial as the 1st line of defense to evaluate and develop an integrative plan for recovery.
Are there any particular cases that have inspired you?
There are several. While volunteering at a K9 training seminar, a handler came to me with her K9 that had been through her trusted general practice vet and even orthopedic specialists for intermittent left front limb lameness at her wrist. After examining her, I found significant muscle tension and overuse of the lower neck muscles on the left side, pain between her shoulder blades, and a fibrous band in her left triceps muscle. With recommendations for massage therapy, stretching exercises, LASER therapy, this lovely K9's lameness improved, and with routine therapy, the owner was able to manage her in the field without lameness.
Another case involved a beagle mix that had been at a rescue for 3 years after being beaten by her former owner with a bat when she was about 1 year old. She presented while I was working emergency in respiratory distress, neurologically compromised, unable to coordinate her tongue/swallowing, head, forelimb, or body motion except for her hind limbs. After stabilizing her, we started rehabilitation therapy later that day. We started with acupuncture and the following morning she was laying sternal and though she had uncoordinated head/neck and forelimb movement, she could bring her head up. I began aggressive proprioceptive training for not only her limbs but the upper cervical/neck proprioceptive pathways. In two days she was able to stand up in her kennel by herself. I worked with her twice-daily while she was in the hospital and then she boarded with us for continued rehabilitative therapy. We worked on food prehension with paw-head-hand coordination, tongue coordination, as well as fit her for a cart to help recalibrate upright vestibular-brain and spinal cord-brain pathways and systems. She eventually was able to walk and trot (with a neurological gait) through the grass. Other times she used her cart. She has an incredibly driven personality and refuses every moment to give up. She is a special girl and still needs a special forever home!
A 4-year-old Belgian Tervuren search dog belonging to a retired detective and IPWDA instructor began having personality changes, nipping at her handler on approach (very unlike her), reduced performance, and a subtly altered right hind limb gait. Using slow-motion video and altering the level of ground she stood on during her physical exam, it became evident her pelvis was rotated in 2 different planes and did not exhibit proper fluid motion. Major nerves like the sciatic (behind the hip) and femoral (in front of the hip) nerve can be affected by abnormal pelvic/sacrum positioning and/or motion. With massage and physical therapy treatment, she began to feel and act better as well as recover her normal level of performance.
A 9-year-old German Shepherd Dog (GSD) presented to me after his owner was told by several people to consider euthanasia. He had required a sling for his hind limbs for a few weeks. This lovely boy had been involved in a car accident with his mom 4 years prior where he was propelled from the rear of the vehicle into the front windshield. While he was sore initially and had some mild neurological issues in his hind limbs, he recovered to a good quality of life. However, his neurological impairment progressed over the years and as he lost hind limb function, many made an additional assumed diagnosis of degenerative myelopathy (DM) for him, followed by recommendations of euthanasia. We started electro-acupuncture, LASER, and massage for him and tested him for DM to better plan his treatment. He was negative. After the 1st treatment, Mom no longer had to use his sling to help him walk. After 5 treatments, he was getting up and down on the furniture and trying to chase the cat. He maintained a neurological gait in his hind limbs, but he did not require a sling from that point forward, he could walk, trot and play without assistance and clearly enjoyed life. He passed away 3 years later of natural causes.
What do you like to do outside of work?
I have been involved in K9 Search and Rescue (SAR) for the missing as a K9 handler/trainer and/or veterinarian for over 15 years. During my downtime for SAR, I try desperately to balance a household of a Border Collie, Belgian Tervuren, and German shepherd!