India Wood, DVM, MS, DACVS
Surgery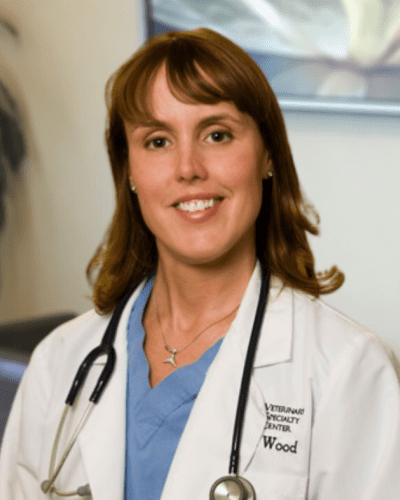 DVM
University of Illinois (Urbana-Champaign, IL)
Internship
Angell Animal Medical Center (Boston, MA)
Master of Science
The Ohio State University (Columbus, OH)
Residency
The Ohio State University (Columbus, OH)
Certification
Board Certified by the College of Veterinary Surgeons
Professional Memberships
Dr. India Wood has been a member of the VSC family since the age of 15. Starting in the kennel and now as a member of the Surgical Referral team, Dr. Wood has demonstrated passion for preserving the quality of life and patient care. She takes great pride in her ability to communicate details to her clients, which better allows them to make informed decisions.
Why did you decide to get into a career in Veterinary Medicine?
When I was 15 years old my dog was taken to VSC for a leg injury. I remember being mesmerized by the medicine and the atmosphere and soon began working in the kennel in order to get more exposure. I later moved into an assistant technician position so that I could be more involved with the surgical aspect of the hospital. From there, I worked at VSC throughout high school and continued during my college and veterinary school vacations.
What motivates you?
As a veterinarian, the quality of life of our patients is the number one priority. Caring for the patient requires making sure that they are as comfortable as possible and that their quality of life is preserved. My meaning of preserving their quality of life is making sure that they are as healthy and functional as possible, given the resources that we have available to us.
What is your philosophy of care?
The "Can" and "Should" in Patient Care". Exceptional patient care is really listening to the clients and taking the whole patient into consideration, not just the immediate problem. There are many things that we "CAN" do to treat our patients, but we always have to consider what we "SHOULD" do for them.
What do you do outside of work?
I enjoy spending time with my dogs, my husband and my daughters. I also enjoy reading and walking. Before we had children, my husband and I enjoyed traveling outside of the United States.
Reviews
"This is our 3rd dog that has been treated at VSC All pets have been treated exceptionally well by all of the staff Facility is honest, sincere and does the VERY best that they can to help our fur babies Dr. India Wood is absolutely terrific at explaining all information in a way that we understand what steps are being taken to help our Doberman."
~ Debra
"The staff was incredibly understanding of our emotional situation and helped us through the entire process. Dr. Wood was especially patient, answered all of our questions, and made sure that we understood what she was recommending and were comfortable in proceeding."
~ Gerald
"Dr. Wood is excellent. She took her time examining our cat as she is very skittish. She treated our cat as a pet, not just an animal. We know our Adalyn was in good hands with all staff at VSC. She is healing well from her surgery and we know she was made very comfortable during her stay. I am appreciative that I could call for an update at any time. Thank you for all that you do!"
~ Heather
"My dog, Riley, was diagnosed with cancer. Dr. Wood could not have been more sympathetic and caring about both Riley and me. She took the time to discuss my options and outcomes. This is a very sad time for my family and Dr. Wood really showed she cared about us."
~ Kristin
"It was a very positive experience. Dr. Wood was very informative, walked me through the options along with the surgery process."
~ Daphene
"Arrived as an emergency with a boxer who was quite ill at 4 pm. He was seen within an hour, ultrasound showed a linear foreign body in his small intestine (not an easy problem) and surgery was recommended. I approved the plan and the estimate. I paid for it online with my phone by 6 pm. The surgeon called to give a detailed informed consent and surgical plan. By 9 pm, she called back, surgery went well, he spent the night. OK to pick up at 2 pm next day, uneventful recovery. At every step, we were met with competence, diligence and caring. We have received two follow up calls to make sure our boxer is well and he is. The final bill came through at $600 less than the low end estimate. A gold star on everyone's calendar, thank you all and especially Dr. India Wood, our surgeon."
~ Bruce