Laura Ilie, DVM, MS, DACVECC
Critical Care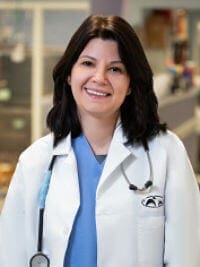 DVM
University of Agronomical Sciences and Veterinary Medicine, Bucharest, Romania
Internship
Residency
Purdue University College of Veterinary Medicine
Certification
Board Certified by the American College of Emergency and Critical Care
Professional Memberships
Dr. Laura Ilie brought home and cared for stray dogs and cats since she was about six-years-old. She realized that veterinary medicine was her passion just a few months before applying to college. Ever since she has never stopped loving her job!
Why did you decide to go specialize in critical care after working as an emergency veterinarian?
Years ago, I was very privileged to work with two amazing criticalists and many talented ER doctors at VSC. These doctors were my inspiration and my support. They helped me understand that there is so much more I can offer to my patients, so much more to learn and that there is nothing more important in life than to follow your dream!
What are some of the cases that inspire you?
Well, the truth is that every patient and its owner has a story and each patient reminds me every day how lucky I am to love what I do.
There is one special dog that will stay with me forever – Angel. She is a sweet mix breed dog who was attacked by another dog and sadly had multiple wounds with most of them over the hind limbs. Unfortunately, her wounds were not properly cared for. We first evaluated her about 14 days post-trauma and at that time she was in critical condition and all her wounds were heavily infected and the tissue was sloughing off. She had no feeling in her hind limbs. In order for Angel to survive, we only had one option (with minimal chance of success) – to amputate both her hind limbs to remove the source of infection. Angel's owners were determined to not give up on her and they wanted to do everything in their powers to make sure she received the best treatment possible and every possible chance so she could go home one day. Angel was hospitalized for more than a month and had multiple surgical procedures performed including skin grafts. She developed ALL the complications you can think of but she never gave up. She pulled through every obstacle that she faced. She also learned (very fast) how to ambulate using a cart. Before she was discharged, she was "running" in ICU "showing off " her new cart. That moment was priceless.
The most important thing that Angel and her family taught me is to never, ever give up!
What is your philosophy of patient care?
As I mentioned earlier, every patient has a story. Unfortunately, when we get to see them in the critical care department, it means they are really sick and their stories are more likely to be sad and heartbreaking. My philosophy is to provide the best care possible to these precious patients and also to take the time to listen to their owners and to answer all their questions. Kindness, empathy, open communication and outstanding medical care are my core values.
What are some of your unique talents/capabilities that you bring to VSC?
I believe that every doctor has unique talents. In my opinion, practicing medicine is an art. It takes creativity, solid knowledge base, a determined mindset and most importantly an endless desire to reunite these patients with their owners. Here at VSC we are a team. We always discuss cases with other specialists and combining all the unique qualities of each doctor involved, it is impossible not to create a priceless piece of art!
What do you like to do when you're not at work or what inspires you away from work?
I very much enjoy spending time with my family and pets. We like to travel, volunteer and spend time with friends. My hobbies are reading, swimming and learning new things.