Leah Kruckman, DVM, DACVIM (Cardiology)
Cardiology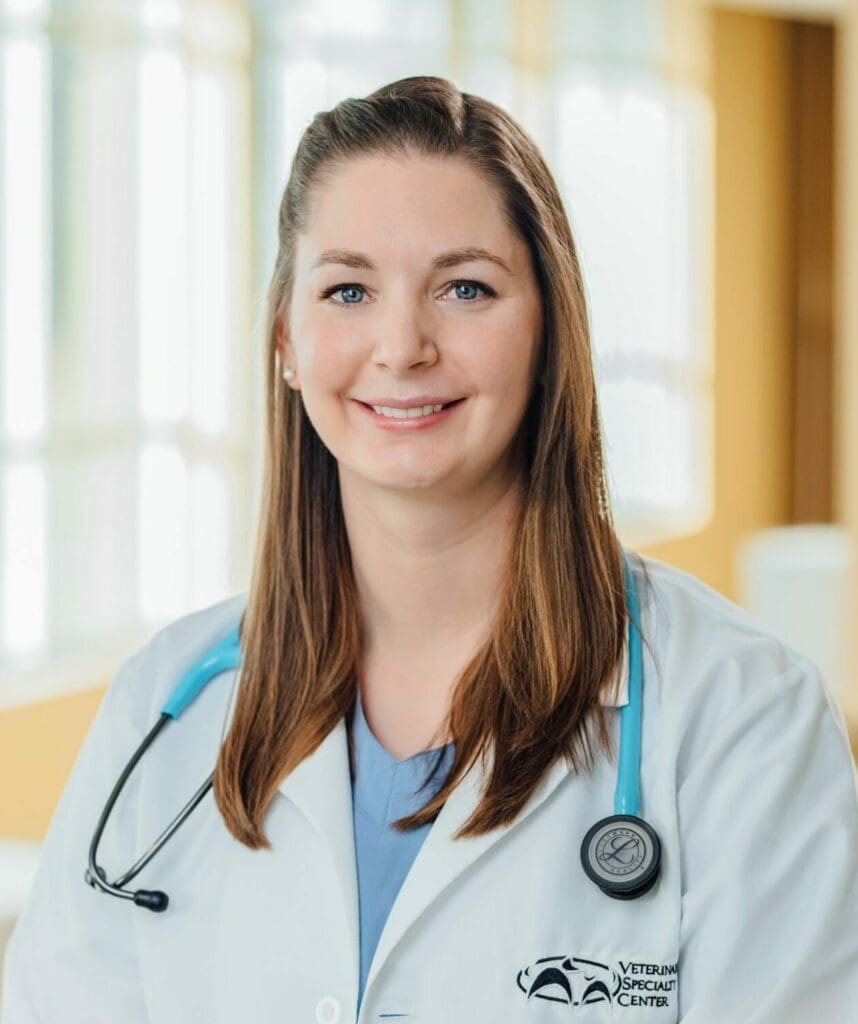 DVM
University of Illinois College of Veterinary Medicine
Internship
The Ohio State University College of Veterinary Medicine
Residency
University of Illinois College of Veterinary Medicine
Professional Affiliations
American Veterinary Medical Association
Certification
Board Certified in Cardiology by the American College of Veterinary Internal Medicine
Dr. Leah Kruckman grew up loving animals and always had a strong interest in medicine and science. She thought for a long time that she wanted to be a pediatrician or orthopedic surgeon. She spent a summer in college working with wolves and fell in love with researching and caring for them. Her sister is a veterinarian and she realized her sister was on to something and switched her focus to veterinary medicine.
What sparked your passion to focus in cardiology?
As a student, I was initially focused on small animal and exotics general practice and did not think of specializing until I took my cardiology rotation at the U of I. After working with their resident, and now faculty, Dr. Kadotani, she encouraged me to consider a rotating internship and specialty practice. I helped with a cardiac screening clinic and research project for Leonberger dogs with Dr. Fries and Dr. Stack which fueled my interest in echocardiography and interventional cardiology. I came to love the variety of cases from congenital to acquired diseases. I also love the relationships I get to develop with clients and their pets as part of their long-term monitoring and care.
What are some of the biggest challenges in your area of expertise?
One of the biggest challenges is helping clients and referring veterinarians overcome their fear of cardiac diseases that have developed from personal experiences or media portrayals. Cardiology is often intimidating because the heart is a vital organ and these patients often present in critical condition. I hope that I can make cardiology accessible to my clients and referring partners so that they have tools to monitor their pets and learn steps to help minimize emergency hospitalization. There are so many new and exciting treatment options available for the wide array of cardiac conditions seen in veterinary medicine. Many of these patients can be managed medically for years or surgically treated to correct their underlying problems. I hope to make many of these minimally invasive procedures available to the community and to continue educating clients.
Is there a particular case that has inspired you?
I have so many cases that have inspired me throughout my residency! It amazes me every time how treating a patient for 24-48 hours leads to a drastic improvement in clinical signs or how an interventional procedure can lead to many more years of quality time for a pet and his or her family. I often think of one of my first surgery patients, Aggy, a 3-month-old Australian shepherd with a patent ductus arteriosus and congestive heart failure.  We managed to close her ductus and get her off all cardiac medications. Aggy now gets to enjoy life as a normal dog with a normal heart! I have many more cases that hold a special place in my heart including Patches, Tony, and Buddy, who were all heart failure cats I managed during my residency.
What do you like to do outside of work?
My husband and I like to spend time relaxing with friends and family. We are excited to be closer to family and to be able to explore the area on our motorcycle. I am hoping to get back to playing volleyball and basketball, working out, and going hiking and biking with our dog, Hobbs. I also enjoy cuddling up with a good book and our cat, Clarence.