Lisa Bourazak, DVM, MPT, DACVAA
Anesthesia & Pain Management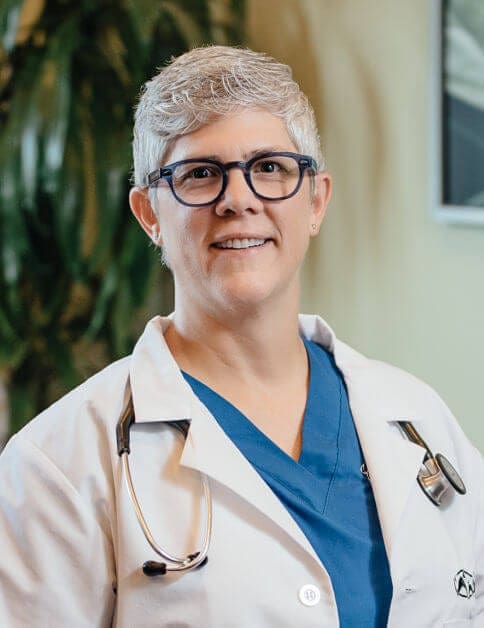 DVM
University of Illinois College of Veterinary Medicine
Internship
University of Georgia College of Veterinary Medicine
Residency
Tufts University Cummings School of Veterinary Medicine
Certification
Board Certified by the American College of Veterinary Anesthesia and Analgesia
Dr. Lisa Bourazak was initially a physical therapist who became interested in the veterinary field after taking a course in canine rehabilitation. After working part-time in a canine rehabilitation facility, she decided to switch careers and make the move into veterinary medicine.
Why did you decide to specialize in anesthesia and pain management?
Being a physical therapist, I was naturally drawn to pain management. My most defining moment was when I was a student and my faculty anesthesiologist performed a local block on a horse for an enucleation. That is the moment I wanted to be an anesthesiologist. I thought a local block to assist in controlling pain was the coolest procedure you could do!
What is your philosophy of patient care?
I am passionate about patient care and assisting them through a safe anesthetic event with utmost pain management and anesthetic techniques. I treat them as individuals and not as a protocol. I assess each patient, review their diagnostics, review what procedure(s) they are having done and base an anesthetic regime on all of those findings.
What are some of the biggest challenges in your area of expertise?
I feel some of the biggest challenges I have is gently pushing clinicians out of their comfort zones with protocols and embracing newer ways of performing anesthetic techniques. In light of the opioid crisis across the country, we need to be judicious with opioid use even in veterinary medicine. That means we attempt to utilize adjunctive techniques when possible. Sometimes the big challenge is spreading the word and teaching these techniques to others in the veterinary community.
What inspires you?
I love helping a critical pet through their procedure. It is exciting and rewarding to see a pet go from being sick to recovering from their illness and knowing that I was able to help them through that tough time. I also enjoy utilizing pain management techniques (epidurals, local blocks) on all sorts of cases. I believe utilizing various pain management techniques is best for the patient and keeps the current crisis in mind by conserving on opioids. You could really say that I love all aspects of anesthesia.
What do you like to do outside of work?
I enjoy spending time with my partner, two dogs (Charles Darwin and Ruth Beagle Ginsburg) and four cats (Vinny, Jake, Aurora and Eclipse). We enjoy hiking, kayaking, cycling and being outdoors. We are also foodies and enjoy the theater.