Maria VonderHaar, DVM, CVA, CVSMT, CCRP
Rehabilitation and Integrative Care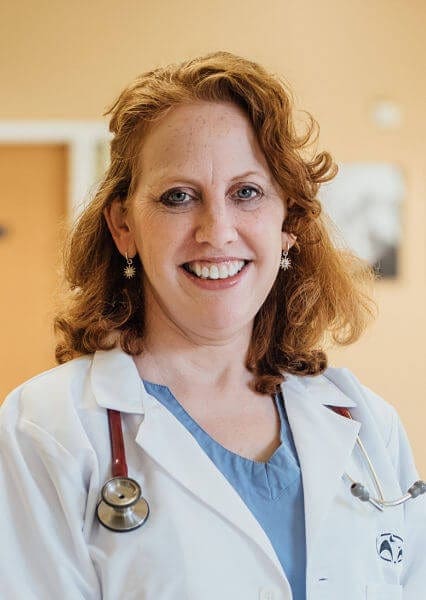 DVM
University of Missouri (Columbia, MO)
Certifications
Certified in Veterinary Spinal Manipulative Therapy (CVSMT)
Certified by the International Veterinary Acupuncture Society (IVAS)
Certified Canine Rehabilitation Practitioner (CCRP)
Further Studies
Physical therapy studies at the University of Tennessee
Chinese Herbal Study at A Time to Heal
Professional Memberships
Dr. VonderHaar's focus is complementary care; she is board certified in acupuncture and skilled in botanical and holistic medicine. Her goal at Veterinary Specialty Center is to provide patients with advanced treatments to assist healing and reduce stress. Dr. VonderHaar understands that the improvement of the patient's overall quality of life is a vital factor in every treatment and procedure.
Complementary care
We incorporate every modality of care available at the Veterinary Specialty Center, so that we can ensure the best outcomes for our patients–that our animals experience their best quality of life.
Overall health
In human healthcare, it is generally accepted that health requires that a diversity of issues be addressed, including diet, environment and exercise. At TheraPET, we're bringing that same holistic approach to caring for our patients, incorporating all modalities of care and taking care to see that the entire life of an animal is as good as possible. Diet, environment, exercise and play activity all contribute to a healthy, happy pet and pet/person relationship.
Helping those who love animals
I enjoy spending time with animals and the people who love them. It is through the support of committed people that our pets enjoy the quality of life we all know they deserve.
Reviews
I love Maria VonderHaar. I have been seeing her for over 15 years. Her front desk staff is great! So friendly and helpful.
~ Lynn
I cannot say enough wonderful things about Dr. V and her team. All of the therapists (Shelby, Kallie, and Sarah) made PT such a wonderful experience for my dog. He was SO excited to go every time. They listened to my concerns and adjusted his plan accordingly. Dr. V treated my dog as her own. She cares very much about what she does and is very knowledgeable. My dog was able to graduate and is no longer limping! Thank you, Dr. V and team!
~ Claire
The rehab team is the best! My dog is excited to work with each and every one of them. They're doing an excellent job with her care, and they're truly the nicest people to work with. This is my second pet that they have worked with us on and they are wonderful.
~ Erin