Meaghan Pryde, DVM
Emergency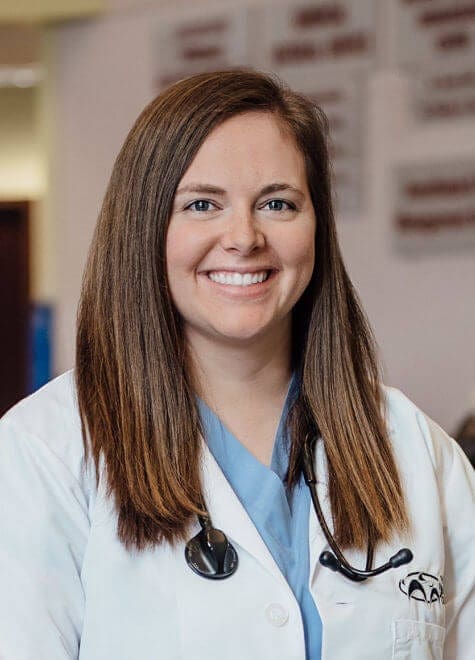 DVM
University of Illinois (Urbana-Champaign), College of Veterinary Medicine
Internship
WestVet 24/7 Animal Emergency and Specialty Center, Garden City, ID
Dr. Meaghan Pryde grew up in Glen Ellyn, IL, where she rode horses and assisted the barn veterinarian with treatments. When she was in high school, she enrolled in a program through the University of Illinois that taught students about veterinary medicine and basic clinical skills and was hooked. During veterinary school, she focused a lot of her time on veterinary ophthalmology. Dr. Pryde worked with an ophthalmologist in the Chicago suburbs during the summer, participated in research projects with interns or residents during the school year, and completed a summer internship in Zurich at the University Veterinary Hospital working in the ophthalmology department.
What drew you to emergency medicine?
It was during my rotating internship that my love for emergency medicine started to form. The fast-paced environment combined with the collaborative approach to care was captivating. I find great satisfaction when stabilizing a sick or injured animal, but also getting to know the pet's personality and working with the clients.
What are some of your biggest challenges in emergency medicine?
One of the biggest frustrations and challenges for me is not knowing exactly what is wrong with the patient. It can be equally frustrating for owners as well, we can run diagnostics but we cannot always give them an exact reason as to why their animal sick.
What is your philosophy of patient care?
My philosophy is to provide the best care possible and to ensure that their owners are informed in order for them to make the best decision possible.
What do you like to do outside of work?
I like to spend time with my two dogs, Payton, an 8-year-old Australian shepherd, and Jay, an 8-year-old small mixed breed. They have been with me since veterinary school. I love to travel, hike, rock climb, backpack, road and mountain bike. I also was active in the Boise Rotary Club and plan on continuing to be active once I've settled in back in the Chicago area.
Reviews
We were immediately greeted at the door, the receptionist was extremely professional and addressed all my immediate needs. Dr. Pryde was fantastic, listened to what I had to say, offered her opinions and the tests were performed.
~ Louise
My Mocha's situation was unusual but VSC was great on the phone, ready when we arrived, and the staff was amazing. Dr. Pryde was recommended by my regular Veterinarian for making an accurate diagnosis and proper care recommendations. It is great to see an establishment that cares about our dogs and pets. The fees were very reasonable as well. Highly recommend VSC.
~ Andy