Paula West, DVM, DACVS, DACCT
Surgery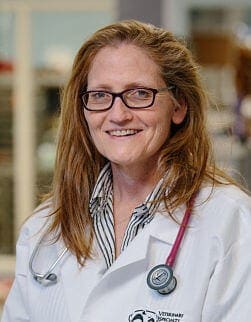 DVM
Louisiana State University (Baton Rouge, LA)
Internship
Angell Animal Medical Center (Boston, MA)
Residency
University of Georgia (Athens, GA)
Certification
Board Certified by the American College of Veterinary Surgeons
American College of Clinical Thermography
Professional Memberships
Dr. West has been fascinated by surgery since the early 1980s when she first witnessed a surgical procedure on an animal while studying for her undergraduate degree at Millsaps College. Her interest in surgery carried her to success as she pursued her career in veterinary medicine; she won the Resident-of-the-Year Award at the University of Georgia. Today, she is proud to be a part of the elite surgical team at Veterinary Specialty Center.
Why did you decide to specialize in Surgery?
I guess I knew I wanted to be a surgeon before I knew I was sure I wanted to be a veterinarian. I discovered surgery when I was an undergraduate before I decided to attend school for veterinary medicine. I was working with an assistant professor at a medical school who was performing minor surgeries on dogs and it was fascinating.
What is the most rewarding part of being a Surgeon?
Surgery is a rewarding specialty because you can literally 'fix' problems. You can return function to animals who would otherwise be disabled and you can save animals who may have life-threatening illness or injury.
What is your philosophy of care?
My philosophy of patient care is that I treat each animal that comes in as if it were my own pet. This includes how I communicate with clients, the medical decisions, recommendations I make and how I interact with the animal. Every animal that I see is important to me.
Reviews
My experiences here have been wonderful! I feel very comfortable knowing that my dog is being taken care of in the best way possible. Dr. West is very professional, patient in listening and answering questions and is great with my dog. I would highly recommend her and this facility to anyone looking for a specialist.
~ Debbie
Dr. West is truly a great surgeon. Knowledgeable, compassionate, professional. She is extremely thorough and patient when discussing issues with her clients. I trust her without any hesitation when it comes to treating my dog. I am very thankful for people like her and what she does.
~ Michael
We have an injured 112 pound, 2-year-old Rottweiler that's a personal protection companion. The entire staff took great care in his treatment and did not hesitate to carry out their duties concerning his treatment and care. Kudos to Dr. P. West and the staff.
~ Dwayne