Rothman Reyes, DVM, MS, Residency-Trained in Oncology
Medical & Radiation Oncology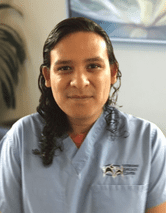 DVM
Michigan State University
Internship
Purdue University College of Veterinary Medicine
Residency
Purdue University College of Veterinary Medicine
Dr. Rothman Reyes grew up in a family of huge animal lovers with a pack of rescue dogs in his native country of Ecuador. At a very young age, he used to escape to his godfather's who happened to be a veterinarian and he would hang out at his practice with his patients. During these years, he realized that working with animals was something that he wanted to do after getting a small taste of the challenges and rewards of veterinary medicine. He told his parents when he was around 7 or 8 that he wanted to be a veterinarian and he hasn't looked back since that decision was made. He credits his parents' unconditional support in helping him reach his childhood dream.
How did you become interested in oncology?
I entered veterinary school with the idea that I was going to hopefully pursue a career working as a scientist—specifically, a pathologist. I found my way to oncology by accident. During my fourth-year clinical rotations in veterinary school, one of my previously set-up externship rotations was canceled and I had to find a replacement externship with very short notice. I ended up at the University of Wisconsin, Madison for a medical oncology externship. During this time, I was able to witness a dog—very sick from its lymphoma—improve overnight. I knew I wanted to understand how these chemotherapy drugs worked, how they were able to extend and improve on the quality of life. 
I love that I am able to help patients as my godfather did, which is why I fell in love with veterinary medicine in the first place. A career in oncology isn't what I planned on, but it resonates with what I envisioned as a young kid sneaking out to his veterinary practice. 
What is your biggest challenge in Oncology?
Getting a diagnosis for cancer is a devastating and life-changing event for many people and pet owners. Making the right treatment decision for your loved one can be a scary and humbling experience. The most challenging and rewarding part of my job is clearly explaining the diagnosis, going over treatment options, and ultimately advocating for my patients. My goal is to make sure that pet parents clearly understand their options and to help them make a decision that they are comfortable with that takes into account first and foremost their fur baby's quality of life. 
What are some of the cases that inspire you?
I try my best to treat every patient I have as if it were my own fur baby, but I do have some cases that have inspired me and taught me a lot about being a good doctor. Kayleigh, a Jack Russell terrier with aggressive lymphoma, taught me to enjoy every week and to live in the now, and to fight the voice of cynicism we all have internally. Lymphoma is a tough disease, but some pups no matter how small are mighty. Frankie, a mixed-breed dog with a urinary obstruction from his aggressive transitional cell carcinoma, taught me that sometimes cancer can scare us, even when we do this for a living. He taught me to slow down; sometimes, delaying things by one week is the best course of action. Murray, a pit bull terrier with metastatic high-grade mast cell tumor, taught me that the odds don't tell the full story. In theory, he should have passed from his disease in a matter of months—not years. Because of what we were able to do for him, he enjoyed three more years with his mom. In the end, when we lost Murray, we cried with grief. He reminds me that what I do is important. Whether it is months or years, the time I can give people with their beloved pets is something that is invaluable, and a privilege I do not take for granted. 
What do you like to do outside of work?
Northern Michigan is my happy place. Love going on road trips, for hiking and exploring, with my two fur babies (Aimée and Cyfri) and my partner Joel. I love cooking and baking all types of different foods from French pastries to Korean kimchi. I also enjoy playing tennis and going on runs around my neighborhood.