Timothy A Ness, DVM, DACVD
Dermatology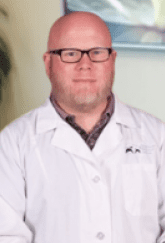 DVM
The Ohio State University (Columbus, OH)
Internship
VCA Berwyn and VCAFranklin Park Animal Hospitals (Chicago, IL)
Residency
University of Minnesota (St. Paul, MN)
Certification
Board Certified by the American College of Veterinary Dermatology
Challenges in dermatology
The challenge with most skin disease is that long-term management is required for control as a cure is not obtainable. The relationships that we develop with the clients, pets and referring veterinarians are what I cherish most as we become close acquaintances over the years.
The Chicagoland Veterinary Dermatology Group
My greatest accomplishments are the ones that I can achieve for my clients and patients with an improvement in the quality of life for both. Continuing education provides general practitioners the environment to expand upon their knowledge and skills. The Chicagoland Veterinary Dermatology Group, organized by myself and a fellow veterinary dermatologist, provides veterinarians dermatology education becoming one of the most anticipated seminars of the year.
Education and communication for clients
Client education is an essential component in the practice of veterinary medicine. The ability to communicate the necessary information to clients is an inherent skill required of veterinarians. An award for compassionate care was bestowed upon me during my internship and I strive to provide that level of care for my patients and clients with each interaction.
Dairy goat competitions
Growing up on the family farm, I cherish my time spent outdoors especially walking and gardening. I am a licensed dairy goat judge and get to stay connected with my rural roots traveling the country judging dairy goats