Tracey Haslitt, DVM, CVSMT, CVA, CCRP, FCoAC, ACVCHM-IVAS
Emergency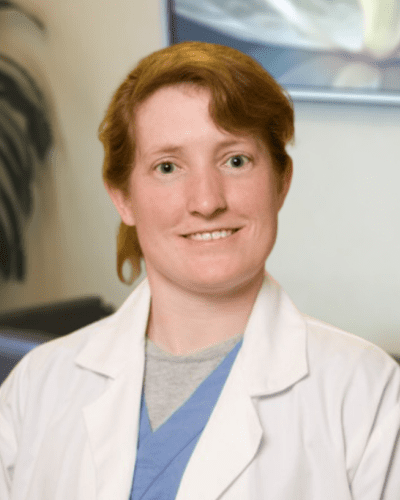 DVM
Michigan State University (East Lansing, MI)
Internship
University of Illinois (Urbana-Champaign, IL)
Certifications
Certified in Veterinary Spinal Manipulative Therapy (CVSMT)
Certified Veterinary Acupuncturist (CVA)
Certified Canine Rehabilitation Practioner (CCRP)
Fellow of the College of Animal Chiropractic (FCoAC)
Advanced Certification in Veterinary Chinese Herbal Medicine-International Veterinary Acupuncture Society (ACVCHM-IVAS)
Professional Memberships
As a life long animal lover and avid horseback rider, Dr. Haslitt worked for five years at a veterinary clinic as a vet assistant before entering veterinary school. The emergency specialists she worked with while at veterinary school motivated her to eventually enter the emergency field herself. Each day, she is awed by her clients and the devotion they have for their pets.
How did you become interested in emergency veterinary medicine?
I demand of myself a great attention to detail, which is essential for good patient care. It is essential that you notice even slight changes in a patient's condition and adjust treatments accordingly. Each patient is an individual and must be treated as such.
What is one of the most important aspects of your job?
It's important to communicate with the pet owners to explain the medical conditions that are occurring with their pets. They must understand the treatment options available and what is currently being done to come to a decision about the correct way to proceed with treatment. It's also best to do this in person, face to face, so we can discuss the condition and encourage a better understanding.
What inspires you most about your job?
I feel privileged to have a career that is constantly growing and evolving. This allows me to continue to grow personally and professionally.
Reviews
"Experience was great! We were seen right away for our puppy who ate half of a sock… he was treated and the vet discussed ALL possible outcomes and treatment options with us. Dr. Haslitt also gave us her professional opinion and described what to look out for as he continued to recover."
~ Monica
"The couple of times that we had to come to the facility the staff is thoughtful and compassionate. Dr. Haslitt is by far one of the BEST Only wish the outcome would have been better."
~ Vincent
One of our dogs ate something but we didn't know which one. The service was excellent and although we had to wait as we came in as an emergency, they saw us as soon as they could. Dr. Haslitt spent time answering my questions, and everyone was wonderful to my dogs.
~ Tracey
As a veterinarian myself, I was incredibly impressed with the very thorough evaluation of our family dog, Benny, and everyone's utmost professionalism and kindness towards all of us. It was hard when I felt I had reached my max in terms of the care I could provide to him as a general practitioner, and now we are three weeks out from Benny's initial evaluation and he's 100% better with hip and biceps injuries thanks to shockwave, ultrasound, and laser therapy. He saw Dr. Haslitt today and she's given him the all-clear to begin underwater treadmill therapy to help him lose weight and support his arthritic joints. Dr. Haslitt, Sarah and Callie, in particular, have all been outstanding and I will continue to refer all of my patients to VSC, now more than ever. Thanks for getting Benny back on his feet, all four evenly this time!
~ Leigh
Dr. Haslitt diagnosed my dog's condition and recommended a treatment plan for my dog That has been extremely effective and lessened his pain. I'm so grateful. Thank you so much.
~ Beverly