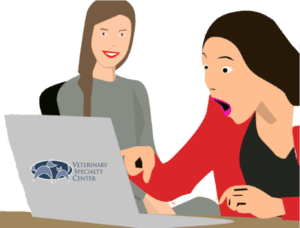 Veterinary Specialty Center is an industry leader when it comes to employee benefits. We offer a variety of comprehensive benefits to full-time and qualifying part-time employees.
Our benefits include:
Generous Salary
Student Loan Repayment Program (we make sizable, non-taxable contributions towards your student loans)
Multiple Free CE Opportunities and CE Allowance
Employee Volunteer Program (we pay you to volunteer)
Financial Hardship Loans (we help when you need it most)
Quarterly Employee Social Events (bowling, zoo, baseball game, fall festival, etc.)
On-site Bistro (fresh salads, sandwiches, snacks, drinks, and incidentals)
Free on-site gym
Holiday Pay
Generous Overtime Opportunities
Generous Employee Referral Bonuses
Birthday Bonuses
401k Match Up to 6% (unheard of in the veterinary industry)
Health Insurance (domestic partnerships included)
Health Savings Account (HSA)
Flexible Spending Account (FSA)
Free Telehealth Services
Life Insurance
Dental Insurance
Vision Insurance
Free Pet Insurance
Short Term Disability
Long Term Disability
License Fee Reimbursement
Free Employee Assistance Program (financial, legal, and mental health services)
Free Premium Scrubs/uniform
We know this list is overwhelming, but we're not even close to being done. Our HR team is constantly looking for new and innovative ways to not only provide the benefits you want but the benefits you deserve!