Emergency and Critical Care
Veterinary Specialty Center (VSC), a Certified Level I Trauma Center, is always open to help your pet in an emergency. Similar to human hospitals, our team quickly evaluates cases that present at our hospital in order to prioritize the most critical patients and begin treatment.
Before coming to the ER, we recommend that you or your primary veterinarian call to discuss your pet's current medical concern and recent medical history. This also gives our team an opportunity to prepare for you and your pet's arrival. If your pet is experiencing an emergency and does not need to be seen immediately, we also offer the ability to Get In Line for the ER so that you can wait in the comfort of your home instead of in your car and receive a text message when it is time to come to our hospital. To see if your pet's condition qualifies and to register for our Get In Line for the ER service, click here.
Upon arrival, our team will examine your pet and discuss diagnostic and treatment options with you. Should your pet need to be hospitalized, our team will closely monitor your pet and keep you updated on your pet's progress. Cases involving life-threatening illness or injury will be managed by our critical care team, which consists of our board-certified Criticalists and board-certified emergency and critical care technicians, emergency veterinarians and ICU nurses and assistants, to provide the highest level of critical care.
Our emergency and critical care teams coordinate treatment with you and your pet's primary veterinarian while collaborating with our other specialists within VSC. Some of the more extensive treatment options we have to offer at VSC include:
24-hour access to advanced imaging such as digital radiography, focused ultrasound, MRI, CT, and fluoroscopy
Advanced monitoring including pulse oximetry, capnography, and blood pressure (invasive and non-invasive), telemetry system for continuous ECG monitoring
Advanced multimodal pain management
Emergency endoscopy for foreign body retrieval
Enteral and parenteral nutritional support
Extracorporeal therapies including hemodialysis, plasmapheresis, therapeutic plasma exchange (TPE), apheresis, and peritoneal dialysis
Hyperbaric Oxygen Therapy (HBOT)
In-house STAT laboratory services such as blood gas monitoring, CBC, blood chemistry analysis, and viscoelastic coagulation testing
Long- and short-term mechanical ventilation
Oxygen therapy including critical care ICU oxygen cages, nasal oxygen therapy, and advanced high-flow oxygen therapy
Transfusion medicine and blood component therapy
Trauma Center Certification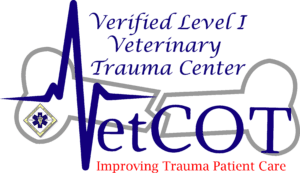 VSC is a Certified Level 1 Veterinary Trauma Center by The American College of Veterinary Emergency and Critical Care's (ACVECC) Veterinary Committee on Trauma (VetCOT). This is the highest designation granted to a Veterinary Trauma Center (VTC) and VSC is one of nearly a dozen hospitals to receive this designation internationally. VSC has also been designated as a Veterinary Emergency and Critical Care Society (VECCS) Facility at its top-level – Level 1 – for having the highest standard of care with regard to our staffing, continuing education, emergency capabilities, facility and in-patient support capabilities.
The VetCOT VTC Network also recognizes hospitals, like VSC, that are continually working to improve their processes, enhance education and work to collaborate both internally between specialties and externally with other trauma centers. VSC is honored to be a part of this incredible network and provide the best care possible for our patients.
We are also an American Animal Hospital Association (AAHA) accredited specialty hospital.