Veterinarian – Interns and Residents
Our Passion to Teach
As one of the oldest independent veterinary specialty practices in the country, Veterinary Specialty Center has been a leader and innovator. Our compassion for our patients is matched by our passion to share our expertise as we train the next generation of veterinarians and specialists.
What is a Veterinary Intern?
When students graduate from veterinary school and become licensed veterinarians, they go one of two routes – either into private practice or they seek more training through internship programs. These internship programs give young, licensed veterinarians the opportunity to work closely with board-certified specialists and experienced emergency veterinarians to get more extensive hands-on training.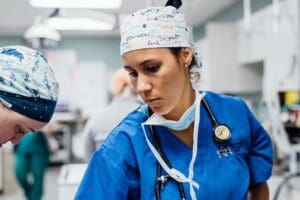 After an internship, veterinarians may choose to join a primary care practice, move into emergency veterinary medicine, or enroll in a residency program as they pursue the path of becoming a board-certified specialist. Veterinarians selected into an internship program participate in a competitive match program based on academic achievements and clinical experience.
We have two internship programs at VSC – rotating and surgical. Our rotating interns work closely with our emergency team while also spending time rotating through each of our specialties. Surgical interns have already completed a rotating internship and are now receiving additional training in surgery. We refer to our interns as house doctors. Most of the residents that have worked at VSC through the years have participated in either our rotating or surgical internship programs.
What is a Veterinary Resident?
Residents are licensed veterinarians that have completed at least one internship program. They are selected through a highly competitive pool of candidates and only a small fraction of those applying for residencies are selected.
VSC is home to surgical, internal medicine, radiology, and critical care residency programs. Our residents receive intense training and manage complex cases under the guidance of our board-certified specialists. They also play a large role in the training and supervising of our surgical and rotating interns, participate in daily rounds with our specialists and emergency doctors, and assist with journal discussions for our interns.
As part of the program, residents must complete a research project and publish an article in a respected journal. After their three-year residency, they will take the certifying exam for the American College of Veterinary Surgeons (ACVS), the American College of Veterinary Internal Medicine (ACVIM), the American College of Veterinary Radiology (ACVR), or the American College of Veterinary Emergency & Critical Care (ACVECC). Once they pass that exam and complete the necessary requirements, they become a board-certified surgeon, a board-certified internist, a board-certified radiologist, or a board-certified criticalist.
For More Information