Technician – Externship Program
Veterinary Specialty Center (VSC) offers a PAID Veterinary Technician Externship Program for students currently enrolled in an AVMA CVTEA-Accredited Veterinary Technology Program. Below is general information about the program and the expectations for students interested in participating. If you have any questions or need more detailed information, contact Katie Karakosta at techexterns@vetspecialty.com.
Shadow Day
In order to participate in our Technician Externship Program, you must complete an onsite *shadow day at VSC which consists of the following:
Rotate through 8+ specialties including:
Surgery
Oncology/Radiation Therapy
Internal Medicine
Cardiology
Emergency and Critical Care
Diagnostic Imaging
Rehabilitation and Integrative Care
Veterinary Diagnostic Lab
Dermatology
*Total on-site time = approximately 3 to 5 hours
Externship
Students participating in the **program will clock in each day, rotate through all of VSC's departments during their externship, receive training on VSC's software programs – ezyVet and Vet Radar, and will be asked to perform a variety of skills (see below).
Prior to being On-Site:
Complete Shadow Day
Sign School Paperwork
Fulfill VSC On-Boarding Requirements
While On-Site:
Clock In/Clock Out daily (Weekly hour sheets approved every Monday).
Complete ezyVet (our practice management software) and Vet Radar (our digital treatment sheet software) Training.
Spend approximately one week per specialty.

Surgery (four days– 10 Hour Shifts)
Oncology/Radiation Therapy (four days – 10 Hour Shifts)
Internal Medicine (four days – 10 Hour Shifts)
Cardiology (four days – 10 Hour Shifts)
Emergency and Critical Care (three days– 12 Hour Shifts)
Diagnostic Imaging (four days– 10 Hour Shifts)
Rehabilitation and Integrative Care (four days – 10 Hour Shifts)
Veterinary Diagnostic Lab (four days – 10 Hour Shifts)
Dermatology (Schedule TBD)

Skills likely to perform include (but not limited to):

Restraint
Blood draws
IV Catheter Placement
Urinary Catheter Placement
Anesthesia Monitoring
Administration of Drugs
Nursing Care and Observation of Critical Patients
Cytology/Blood Smears
**Total On-Site Time: 8-16 weeks
Post Externship Expectations
VSC is proud to have hired the majority of students that have successfully completed our Technician Externship Program.  These individuals work in supporting roles until they pass the VTNE, at which time they become recognized CVT's.  Once hired, you qualify for our generous benefits package that includes: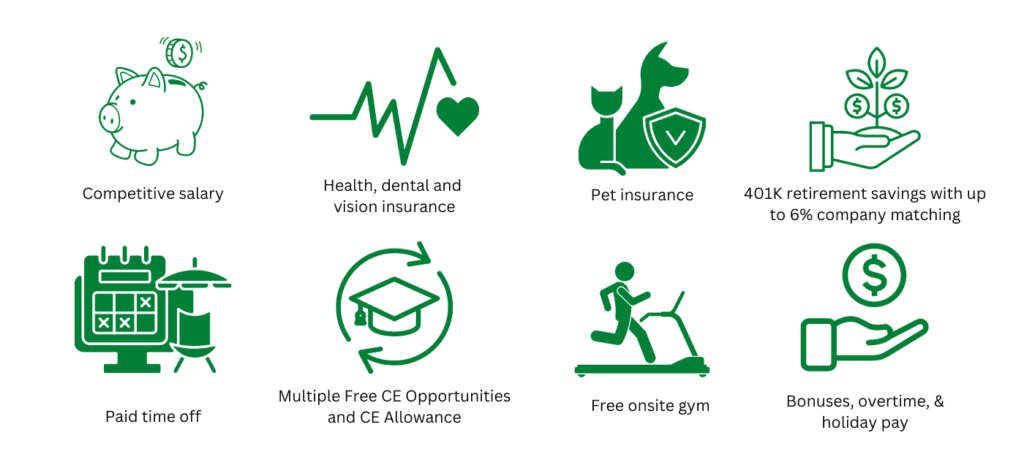 Learn more about our benefits and resources –
Program Graduates
The following Technician Students have completed our externship program and are currently working as veterinary technicians at VSC:
Sara – Medicine
Jasmine – Ecc
Cassidy – Oncology
Libby – Surgery
Ngaire – Medicine
Denise – Imaging
Adi – Surgery
Kelsey – Oncology
Alaina – RT
Heather – Surgery
Ivan – Medicine
Angelina – Lab
Karina – Surgery
Janelle – Medicine
Megan – ECC
Vanessa – ECC
Carson – Surgery
Lexi – ECC
Lauren – ECC
To Apply, please complete and submit the form below.