It can be frightening and overwhelming to have a pet with sudden or chronic neurological problems. Many neurological conditions in dogs and cats are often urgent and require rapid diagnosis, assessment, and treatment to optimize the pet's prognosis. Veterinary neurologists specialize in the diagnosis and treatment of disorders of the spinal cord, brain, and peripheral nervous system. VSC's neurology team helps you and your pet by offering the best diagnostic and treatment options to improve your pet's outcome and quality of life.
Some of the common neurological problems that we see include:
Seizures and epilepsy
Strokes
Meningoencephalomyelitis of unknown etiology (autoimmune)
Infection of the brain and spine
Weakness/Paralysis
Incontinence
Intervertebral disc herniations
Balance disorders
Tumors of the brain and spine
Trauma
Congenital anomalies
Degenerative myelopathy
Subarachnoid diverticulum
Vision problems
Myasthenia gravis and other neuromuscular disorders
Hydrocephalus
Canine cognitive dysfunction
Diagnostics
Diagnostic tests are critical to hone in on your pet's diagnosis and to check for co-morbidities that may change your pet's treatment plan. Our board-certified neurologist/neurosurgeon Sarvie Bagheri works with our radiologists, anesthesiologists, surgeons, and rehabilitation team to determine the best diagnostic and treatment options for your pet.
We offer the following diagnostics:
Complete blood count, serum chemistry, and urine analysis
Advanced laboratory testing
Advanced digital x-rays
Ultrasound and fine needle aspiration
Cerebrospinal fluid (CSF) analysis
3 Tesla MRI (Magnetic Resonance Imaging)
64 Slice CT Scan (Computed Tomography)
Neuromuscular evaluation with electromyography (EMG)
Auditory evaluation with brainstem auditory evoked response (BAER)
Nerve and muscle biopsy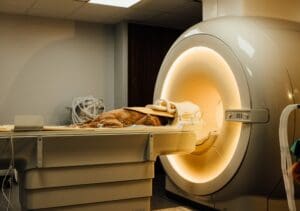 Surgical Procedures
We offer a wide range of surgical procedures:
Brain/spinal tumor resection
Intervertebral disc disease (IVDD) surgery
Skull fracture repairs
Spinal fracture repairs
Ventriculoperitoneal shunt placement for hydrocephalus
Durectomy for subarachnoid diverticulum
A-A luxation stabilization