Join us for our upcoming evening lectures and our Sunday Morning Webinar Series!
Registration is Open!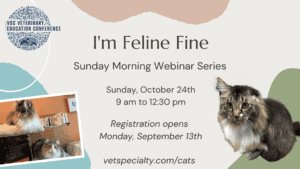 * Note: If you don't receive a confirmation within an hour of registering, please reach out to kmordini@vetspecialty.com.
---
Save the Date
Sunday Morning Webinar Series: Tackling Nutrition & Weight Loss in Pets
Sunday, November 7th – 9 am to 12:30 pm
Join our us as we present a morning of education focusing on a wide range of nutritional topics with experts from VSC and throughout the industry.  Watch for details.
Registration opens in mid-October
---
On-Demand Webinars
We are now offering some of our past lectures for RACE-approved continuing education credit in an on-demand format. To attend a recorded/on-demand lecture, please click the corresponding link. In order to receive the CE credit, you must pass a 5 question quiz that will be sent out after the lecture. Certificates will be emailed within 5 business days of your quiz submission.
Medical Lectures
New lecture –

Congenital Cardiology – Part 1: Pulmonic Stenosis.

New lecture –

Whew…I think we're good now. Stabilizing the unstable patient.
Elbow Room: Orthopedic Updates in the Treatment of Elbows (3 hours)
New Year, New Updates in Oncology, Part 1 (1.5 hours)
Molecular Diagnostics for Lymphomas
Ya Down with TCC, Ya You Know Me
New Year, New Updates in Oncology, Part 1 (1.5 hours)
Personalized Immunotherapy for the Treatment of Osteosarcoma
Bones, Bladder, and Bone Marrow: Radiotherapy for Osteosarcoma, TCC, and Lymphoma
Don't Dis' Disinfection – Biological Risk Management in Our Microbial World
Unless marked differently, each lecture qualifies for 1 hour CE Credit for Veterinarians and Technicians
---
Tracking Your CE Credits
Starting in 2021, we will be asking for your license number when you register for our events. The American Association of Veterinary State Boards (AAVSB) is making it easier to track your CE thanks to its new RACEtrack system. When you register with your license number, we will upload that information after each RACE certified CE and the system will track credits for you.
Here are the steps to setting up your free RACEtrack account.
If you don't already have an AAVSB account, log on here to get started.
From that link, you can also gain access to RACEtrack and to set up. You will need to click on "Allow CE Broker Access" and it will send your license information over to the RACEtrack system.
The page will refresh once the information is sent. The new button will say "Enter/Update Continuing Education" and will take you to CE Broker to begin entering CE information.
This site will keep track of the courses you have taken and let you know how many you need to complete.
Here's a link to the user guide to learn more.
Note: While some state regulatory boards will accept an email from RACEtrack for license renewal, Illinois is not among the states at this time. You will still need to keep your certificates and submit them as you have in the past until that changes. Wisconsin and Indiana will accept an email from RACEtracker.
We will continue to send out certificates to everyone who attended after each CE, regardless of whether they submitted a license number or not. You are also not required to share your license number with us to register for a CE.