Jennifer Herring, DVM, MS, DACVECC
Critical Care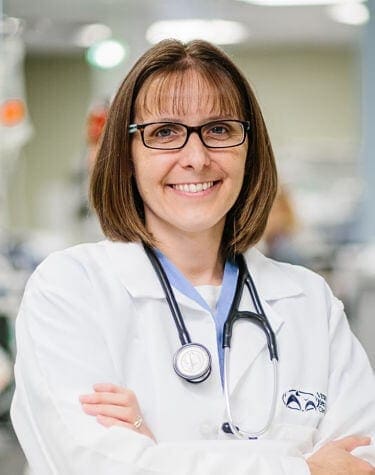 DVM
University of Illinois College of Veterinary Medicine
Internship
Animal Medical Center of New York
Residency
University of Illinois College of Veterinary Medicine
Certification
Board Certified by the American College of Emergency and Critical Care
Professional Memberships
Dr. Jennifer Herring was inspired toward veterinary medicine through a childhood experience she had with her own dog. Her dog was in the hands of a talented veterinarian who saved her pet's life. That has always been the trigger for her to want to provide the same level of compassion, experience and skill to her patients and their families.
What drove you to go into the emergency side, in particular, to specialize in Emergency and Critical Care (ECC)?
My love for emergency medicine grew from a desire to know more and be able to do more for my clients and their pets. I chose to specialize to advance my skills as much as possible to provide my clients with state-of-the-art medicine and patient care.
What are some of your biggest challenges in ECC?
Some of the biggest challenges center around the unpredictability and uncertainty of what is naturally emergency and critical care medicine. Being able to stay flexible, adjust with every twist and turn of a case, and being able to keep the lines of communication open for clients and referring veterinarians are areas where I strive to excel.
Is there a particular case that inspires you?
To choose one case that inspires me the most seems like an impossibility as I have been touched by so many throughout the years. One of my first emergency cases as a doctor stands out as one that will resonate with the love of a dog and its owner better than any I've ever encountered. Those moments are great reminders of why I love emergency medicine.
What do you like to do when you're not at work?
When I'm not at work, I enjoy the craziness of life with my 3 children and their furry partners in crime, Kevin, our Pomeranian, and Ella, our torti cat. I enjoy biking, swimming, and running.
Reviews
In a critical situation, Dr. Heering and her team were professional, caring, kind, and understanding with comfort and explaining options and details. Also, we are forever grateful as the medical staff was able to save our dog's life after ingesting poison that got into our yard. We just thought he had a rotten tooth that would not stop bleeding. The facilities were also amazing and comforting even though the reason for the visit was so unfortunate. We are so thankful for this service!
~ Vicky