Rhonda Feinmehl, DVM, Residency-Trained in Oncology
Medical & Radiation Oncology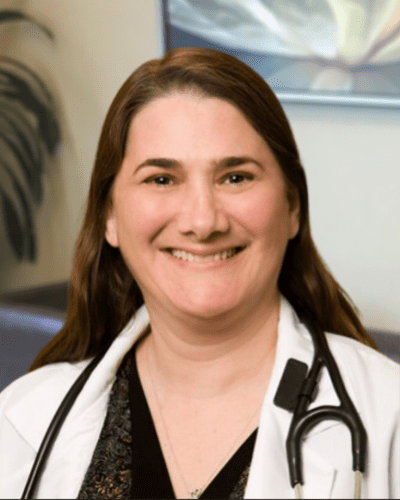 Director
Medicine and Emergency Critical Care
DVM
University of Illinois (Urbana-Champaign, IL)
Internship
Animal Medical Center (New York, NY)
Residency
Animal Medical Center (New York, NY)
Professional Memberships
Dr. Feinmehl is a member of the board of directors at Veterinary Specialty Center. She played an integral role in the design and development of our state-of-the-art intensive care and emergency services.
In addition to her full case load and leadership responsibilities at Veterinary Specialty Center and her busy family life, Dr. Feinmehl serves on the Medical Advisory Board at Shedd Aquarium. She also regularly lectures other veterinary medicine professionals on topics in oncology, including management of the effects of chemotherapy.
How did you become interested in specializing in oncology?
I have always felt a special bond with animals and had a passion for helping them. As an undergraduate Biology major, I took an immunology course and was fascinated by the oncology section. The more I learned about oncology, the more certain I became about focusing in cancer care as a veterinarian.
I've worked hard ever since to get the most complete education and training in veterinary oncology and to stay on the leading edge of my field. I feel fortunate that I'm able to combine my love of animals with an area of science as interesting and fulfilling as oncology.
What do you like to do outside of work?
I came to the Veterinary Specialty Center after completing my internship and residency in New York and have been here ever since. When I'm not at the hospital, my husband and I are keeping up with our kids, cheering them on at sports, attending concerts, and their many other activities. At home, I'm gardening, baking, and enjoying life with my family, including our dogs and cat.
Reviews
Since June of 2012, we have seen Dr. Feinmehl monthly. Our experiences have always been superior. This week we brought in a second pet for consultation with her. We were very pleased we were able to take immediate action, surgery with Dr. Robbins; and were relieved to know that Dr. Feinmehl will work with us to determine the best treatment plan for Yoda going forward. Our beloved Spooky has begun her fourth year in remission due to the skills and expertise of Dr. Robbins and Dr. Feinmehl. This is why we continue to make the trips from Wisconsin and Arizona.
~ Mary
My experience through your facility over the last few years has been great. I have been to many clinics and specialty centers over the years for my pets and I must say this is the only one that does not treat us like a number on a list. What I like the best is that they discuss everything with me, in extreme detail, and answering my gazillion questions, even if they aren't pertaining to something you facility offers. We thank you.
~ Steph
Dr. Feinmehl did a wonderful job of keeping our dog alive and comfortable for years longer than expected. We got a lot of great extra time with her and we're very grateful for the expertise, care and efforts that were put forth on behalf of our dog. Thank you for all that you did. We greatly appreciate the care and compassion.
~ John