Carolynne Kruckman-Gatesy, DVM, MS, DACVR-RO
Medical & Radiation Oncology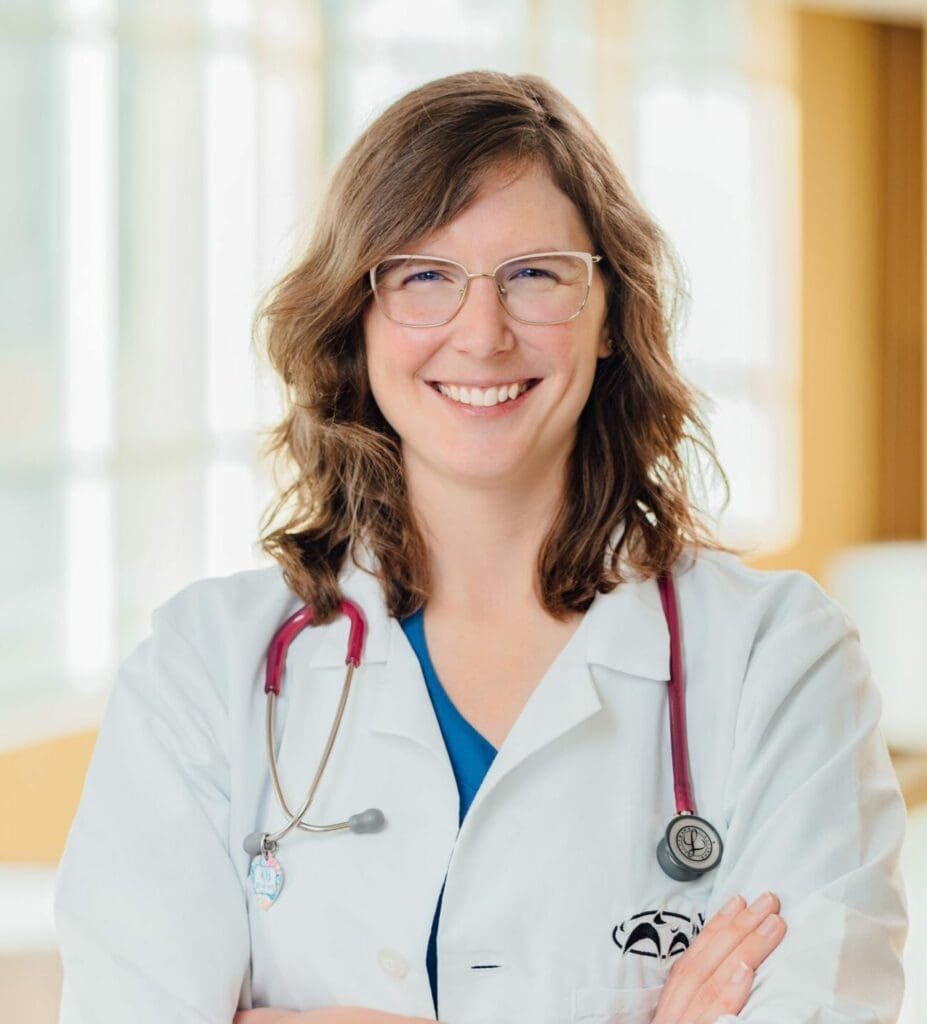 DVM
Michigan State University College of Veterinary Medicine
Internship
Blue Pearl Georgia Veterinary Specialists (Sandy Springs, GA)
Residency
Colorado State University College of Veterinary Medicine
Certification
Board Certified by the American College of Veterinary Radiology – Radiation Oncology
Dr. Carolynne Kruckman-Gatesy has always loved animals and was interested in being a veterinarian since she was very young. She focused on biology and medicine almost reflexively throughout high school and college and found it interesting and engaging. She never found another career path that felt as natural or rewarding.
Why did you decide to specialize in Radiation Oncology?
My original interests in vet school were small animal private practice or zoo animal medicine. Recommended by word of mouth, I contacted Colorado State University for an externship in oncology, since Michigan State didn't have an oncology service open for students. That three-week experience sparked my interest in oncology, but it wasn't until I was matched with a radiation oncologist as my mentor during my internship that I really saw radiation oncology as my ultimate career path. There were a number of well-timed, fortuitous circumstances that led me to what I honestly believe is the best fit for me as a veterinarian.
What is your philosophy of patient care?
Our pets are our family, and I consider my patient care as critical and important to my clients as if I were a pediatrician. Just like young children, our pets cannot communicate with words, so it takes acute attention to body language and a hefty dose of patience and compassion to work safely and effectively. I came across this quote in college; "The greatness of a nation and its moral progress can be judged by the way its animals are treated." – Mahatma Gandhi. I've taken this precept to heart, and firmly believe our animals deserve the best quality patient care available to them, including not only the best available in technology and medicine but also nursing care and communication.
What are some of your biggest challenges?
Radiation is a "black box" to so many people, and it comes with some very negative connotations from media and history. It is also one of the most effective and exciting tools available to oncologists for the treatment of cancer and, as we are beginning to learn, many other inflammatory or degenerative diseases. I think one of my greatest challenges ahead, and honestly, a task I look forward to is the education of my clients, colleagues and staff about how radiation can be safely and effectively used in our veterinary clinic. Like many of our tools in medicine, it should be highly respected and not abused, but I hope to alleviate some of the unfounded fears against its use as a therapy for animals.
Is there a particular case that inspires you?
During my residency, I worked with an adorable, black, mixed-breed dog named Little Boy. He had been recently adopted as a stray off the streets by a couple. At the time, Little Boy had a very large bony tumor on the top of his head; his new owners adopted him, regardless. They immediately contacted Colorado State University, knowing we offered radiation for pets with cancer and asked if there was anything we could do to help. Ultimately, we were able to treat Little Boy with a highly-targeted form of radiation known as stereotactic radiotherapy (SRT). We explained to the owners that this would not cure Little Boy, but we hoped to slow or stop the tumor for a short period of time, and this was our best chance. The owners agreed and reported that after some adjustments in medications for inflammation, Little Boy went on to enjoy four more happy months. I am inspired by both this dog, who despite his horrible tumor, was the sweetest creature on Earth; and by these wonderful clients, who offered their love and home to an animal in need, with no expectation of reward or a lot of time together. They, and all those out there like them, are my heroes and why I do what I do.
What do you like to do outside of work?
My husband and I recently had our first baby. We are currently learning the ins-and-outs of parenthood, which occasionally involves long walks with our daughter and our Corgi mix, Alice, or outings to local breweries. I'm also getting back into some of the physical activities I used to enjoy, including volleyball, basketball, and yoga. We are excited to spend more time with our families in Chicago and Michigan and hope to continue exploring the Great Lakes that we learned to love when we were young (and now can share with our daughter as parents).
Reviews
Dr. Kruckman and Shelby were very knowledgeable and supporting in all my needs. Would like to thank them for their patience and Care.
~ Ax