Trevor J. Gerlach, DVM, DACVIM (Cardiology)
Cardiology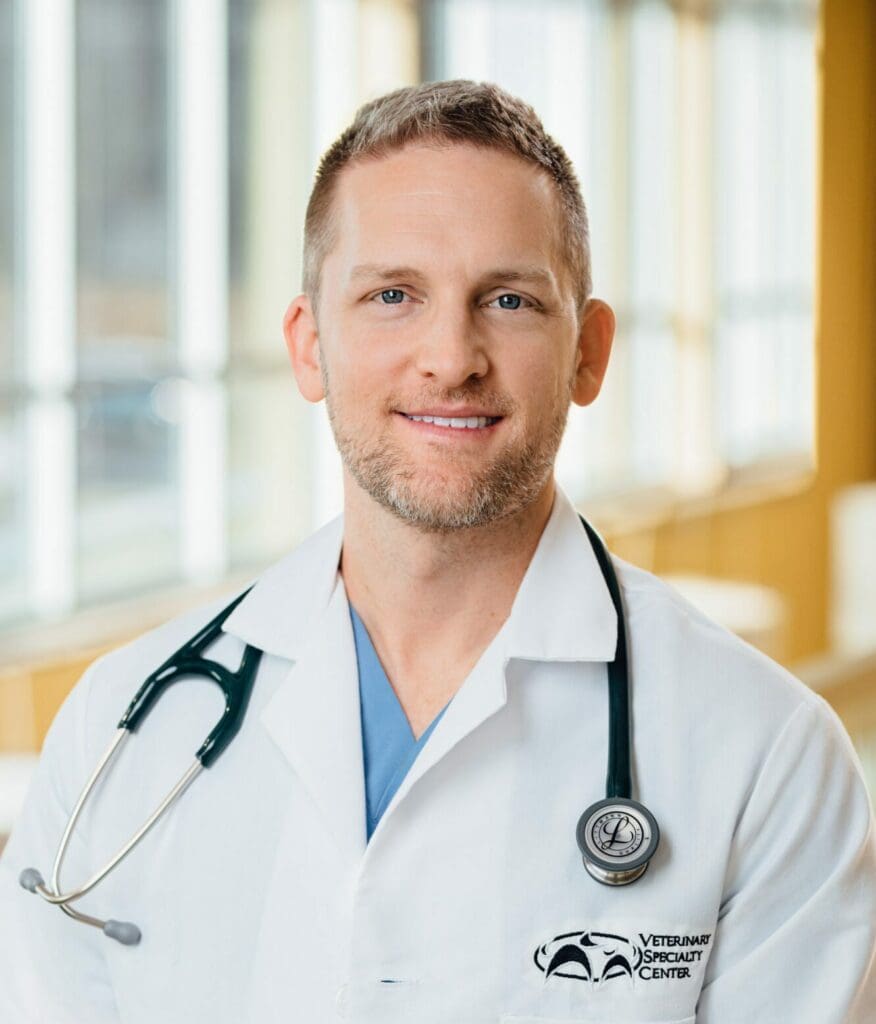 DVM
University of Florida College of Veterinary Medicine
Internship
University of Pennsylvania Matthew J. Ryan Veterinary Hospital
Residency
University of Georgia Veterinary Medical Center
Certification
Board Certified in Cardiology by the American College of Veterinary Internal Medicine
For as long as he can remember, Dr. Trevor Gerlach has been fascinated with animals, biology, and ecology. He grew up in a household that recognized his interest early on and his parents heavily fostered this interest. At times, this fostering came at their own expense. He recalls two occasions where his mother (who is terrified of reptiles and rodents) barricaded herself in her room when she learned that a gerbil and a snake had gone missing. He also remembers his mother scaling a neighbor's tree with a net to capture one of his cockatiels that had flown the coop.
While watching a documentary on the Discovery Channel his senior year of high school, he learned that veterinarians played an impactful role in wildlife conservation. He enrolled at the University of Florida where his major and minor studies in Animal Sciences and Wildlife Ecology and Conservation furthered his interest in veterinary medicine.
How did you become interested in Cardiology?
My interest in cardiology developed early on in my veterinary studies. I had the privilege of working with University of Florida cardiologists Drs. Amara Estrada, Mandi Kleman and Herb Maisenbacher, who encouraged me to pursue my combined interests in wildlife/zoological medicine and cardiology. We completed cardiac research studies in maned wolves and manatees during my time as a veterinary student and an aquatic fellowship, which paved my current path in cardiology.
What is your philosophy of patient care?
Like all veterinarians, I think all patients warrant treatment and bedside manner as if they were my own. Appointments and hospitalization are often preceded by a lot of uncertainty and angst on the part of pet owners and inevitably cause some degree of stress to the pet. For this reason, I strive to provide owners with reassurance and clarity on what to expect with their pet. I also expect that my colleagues and support staff share the same sentiments, which factored into my decision to join VSC.
What are some of your biggest challenges?
Cardiology is a relatively new field within veterinary medicine. While that can be exciting at times, it also means that we still have a lot to learn.
What inspires or motivates you?
I'm motivated by the change I see in an owner's face when I'm able to provide a diagnosis and appropriate therapy for their pet to afford them a better quality of life for whatever time they may have. I find surgical correction of cardiac diseases (patent ductus arteriosus, pulmonic stenosis, arrhythmias requiring pacemaker therapy) especially rewarding.
What do you like to do outside of work?
Outside of work, I am involved with a number of research projects involving zoo and aquatic species. I enjoy international eco-travel, soccer and have a soft spot for yellow Labradors, Chihuahuas and horses. My immediate family, including my nieces and nephews, reside in Florida where I travel several times each year.
Reviews
We scheduled an appointment with Dr. Trevor Gerlach. Our dog was diagnosed with heart enlargement from our vet and we wanted to take him to a veterinary cardiologist for an examination. They suggested doing an echo and Xrays on him during his appointment to better diagnose his condition. Dr. Gerlach and his technician were very personable and took the time to go over test results and treatment plan moving forward. We started him on medication that day and have noticed that he is acting like his usual goofy self. Our expectations were met and glad we went to VSC. We will be following up in three months!
~ James
My dog was beginning to experience heart failure. You were notified by my vet that we were on the way there. When we arrived, we were met by someone from the ER and he was taken back immediately. The treatment administered was effective and he improved overnight. I was able to take him home 24 hours later. He is doing well and is tolerating his medications without any obvious negative side effects. Dr. Gerlach spent a fair amount of time with us prior to his release and explained what happened and what treatments were administered, and how I should follow up at home.
~ Judy