Danielle Engel, DVM (Resident)
Surgery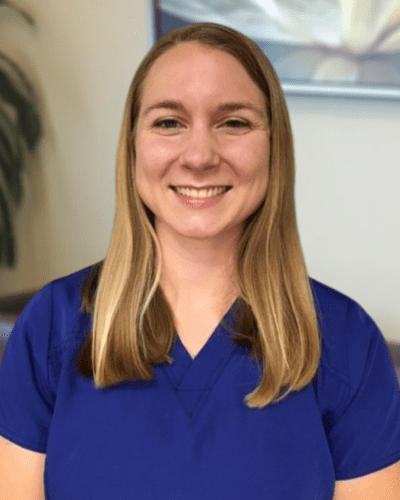 DVM
Internship
Angell Animal Medical Center (Boston, MA)
Surgical Internship
Veterinary Specialty Center
Residency
Veterinary Specialty Center
Dr. Danielle Engel knew from a young age that she wanted to be a veterinarian, but didn't discover her love for surgery until veterinary school. She thinks it's the perfect career because she is able to combine her creative side with her analytical side. Some surgeries require precise measurements and cuts while others require a level of artistic ability, such as removing a large mass and turning the incision into something aesthetically pleasing. Dr. Engel also loves that every case is different and requires a good understanding of the problem, the patient, as well as the owner.
What are some of the biggest challenges in your area of expertise?
One challenge about surgery is that it's a joint effort between us and the owners to get these patients back to 100%. The two months of activity restriction is just as important as the initial fracture repair, and a mass removal isn't successful if the dog does not wear the "cone of shame" after surgery and develops an incisional infection. Owners trust us to perform surgery on their animals, but we also have to trust owners to understand and follow the postoperative instructions.
What is your philosophy of patient care?
I think it is important to remember that patient care is a fluid and evolving concept. You can't assume that what you've done in the past will continue to work in the future. The best care for your patient should be based on experience, collaboration with colleagues, and current medical research. It is important not to get stuck in a rut and to embrace advances in medicine as they come. That is why I love VSC – our hospital is always willing to step outside of our comfort zone and try new things for the sake of obtaining the best care for our patients.
What are your thoughts about staying at VSC for your residency?
I couldn't be more excited or proud to be staying at VSC for my residency. I learned so much during my surgical internship here and formed close relationships with all the staff. Continuing to train here will allow me to remain with my work family and continue to be challenged every day by the unique cases that are brought to our doorstep.
What do you like to do outside of work?
I grew up playing sports so I try to stay active as much as I can outside of work, whether it's walking my dog or going for a run, or doing an impromptu workout in the park. I also love to bake, and fortunately, my coworkers are always willing to sample my new recipes!