Gabrielle Hybki, DVM, Residency-Trained
Surgery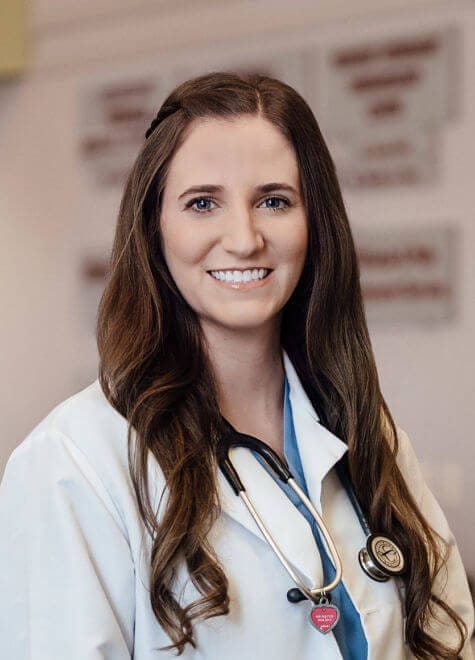 DVM
Western University of Health Sciences, College of Veterinary Medicine (Pomona, CA)
Rotating Internship
Inland Valley Veterinary Specialist and Emergency Center (Upland, CA)
Surgical Internships
Veterinary Specialty Center (Buffalo Grove, IL)
Las Vegas Veterinary Specialty Center (Las Vegas, NV)
Residency
Veterinary Specialty Center (Buffalo Grove, IL)
Dr. Gabrielle Hybki knew at a young age that she wanted to be a medical professional but it wasn't until she stepped foot into a veterinary hospital in high school that she fell in love with veterinary medicine. Dr. Hybki finds veterinary medicine to be intriguing and challenging since her patients are not able to talk to her. She finds it very rewarding to see patients recover and walk out the door after coming into the hospital extremely sick.
Why did you decide to specialize in Surgery?
Surgeons are known for being able to fix patients, whether that means repairing a fracture so that they are able to walk again, to removing an abdominal mass so they feel more comfortable has always been inspiring to me. I love the challenge that no case is the same and to be able to go into surgery and have to think on your toes to decide what is the best surgical option for each patient is something that I enjoy doing.
What are your thoughts about returning to VSC for your residency?
VSC holds a special place in my heart! I was born and raised in Southern California, so when I moved to Illinois to be a surgical intern at VSC it was the first time that I ever lived in a different state and away from my family and friends. VSC took me under their wing to help me grow as a doctor but I also grew relationships with the doctors and technical staff that made me feel like I had a home away from home. For someone who has been a hands-on learner, being at VSC as a surgical intern and resident, helped me become more confident in my skills and encouraged me to work hard to become a well-trained surgeon. When I was offered a position to stay at VSC and join the surgical team, I said yes in a heartbeat! I am excited to be working alongside these amazing surgeons and be able to work in a hospital that provides the best quality of care to all patients.
What do you like to do outside of work?
As someone who grew up in SoCal, I love being outside and by water! Since there are no oceans in Illinois, going to Lake Michigan has been my go-to place. I love to paddle board, attend yoga classes, walk around my favorite parks, and spend time with family. I also love spending time in Chicago and exploring all the events that are happening in the city on a daily basis.
Favorite quote…
"Saving one animal will not save the world, but surely for that one animal the world will change forever."- Anonymous