Julia Kahn, DVM, Residency-Trained in Internal Medicine
Internal Medicine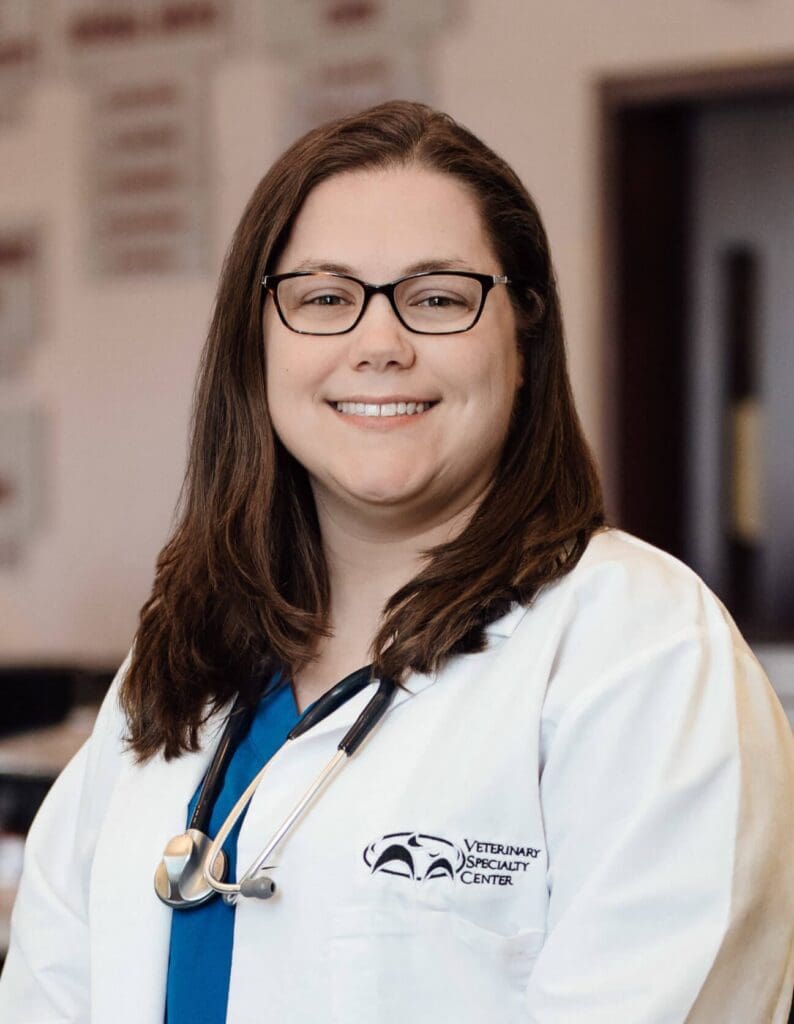 DVM
University of Illinois College of Veterinary Medicine
Internship
Veterinary Specialty Center, Buffalo Grove
After Dr. Julia Kahn graduated from college and moved to Chicago, she started working at an animal hospital in Highland Park as a vet assistant. She absolutely loved working there and immediately felt that she had found what she was supposed to be doing. Dr. Kahn loves working with animals but also working with people (owners) to figure out the best plan for their pets. She also worked as a vet tech while taking classes and applying to vet school and finds that the more she learns about veterinary medicine, the more she realizes she made the right decision to become a veterinarian.
How did you become interested in internal medicine?
During my internship at VSC, I rotated through all the different departments. Internal medicine is so varied – we see respiratory cases, GI cases, infectious disease, auto-immune disease – a little bit of everything, so every day is different. I also like seeing follow-up appointments and building long-term relationships with owners and their pets. When I was working ER, I missed getting to see how the animals did the next day after we hospitalized them or how things went in the long-term. I also like the diagnostic workup of internal medicine cases. It can be a challenge to put together the different pieces (bloodwork, imaging, etc.) of the puzzle to figure out what's wrong with the animal and how best to treat them.
What are some of the biggest challenges in your area of expertise?
Because internal medicine is so varied, there's a lot of information to learn – especially during my residency. Even after I finish, there will always be new information to learn and new tests or procedures to better diagnose or treat the different diseases that we see. While this is a challenge, this is also one of my favorite parts – it keeps everything interesting!
Is there a particular case that inspires or motivates you?
When I was working as a technician before I went to vet school, we had a particularly challenging surgical case. We called over to Veterinary Specialty Center from the clinic to consult with a surgeon, who offered some advice over the phone, but she also ended up coming by the clinic to help out. I was so impressed at the time by the willingness of the surgeon to help as well as her professionalism and knowledge. All through veterinary school, that experience has since been stuck in my mind and I hope to one day be able to do the same for someone else. It's still amazing to me that I now work with the doctors that I got to meet all those years ago.
What do you like to do outside of work?
I have a dog named Ziggy who loves to go on hikes at the nearby forest preserves. I love to read and do jigsaw puzzles. I also do some crafts and other projects at home (sewing, crocheting). And I love exploring Chicago and finding new restaurants or fun places to visit.