Kara Osterbur, DVM, MS, DACVECC
Critical Care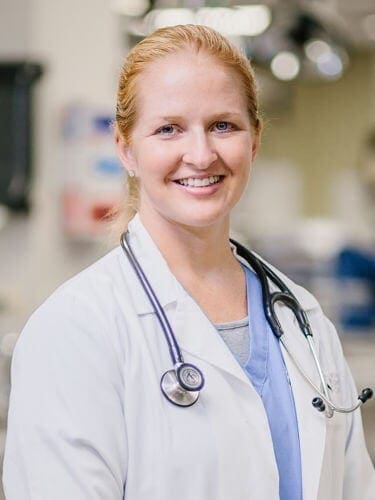 DVM
University of Illinois College of Veterinary Medicine
Internship
Residency
Certification
Board Certified by the American College of Emergency and Critical Care
Professional Memberships
Dr. Osterbur has always loved animals. Her first job was at the Quincy Humane Society in Quincy, IL. This experience made her realize that veterinary medicine was her field. Her philosophy is to treat every patient as if they were her own and make every effort to make sure that their owners are happy and well-informed.
What drove you to go into the emergency side, in particular to specialize in Emergency and Critical Care (ECC)?
I thrive on the fast-paced nature of emergency medicine and I enjoy not knowing what is going to walk through the door next. We see a wide variety of emergencies so it keeps things interesting. I especially enjoy critical care because it is very satisfying to see very sick patients improve over time.
What are some of your biggest challenges in ECC?
Unfortunately in emergency and critical care, we cannot save every pet. It is most heartbreaking for us and for owners when the illnesses seem to come out of nowhere and owners are forced to make very tough decisions, especially when their pet seemed perfectly healthy the day or even hours before presentation.
Is there a particular case that inspires you?
I have a big interest in mechanical ventilation. Although the success rate is not great for any pet needing to go on a ventilator, it is always great when we are able to save one. One of my first ventilator success cases was a Great Dane. She had terrible mastitis which required surgery, a retained fetus that required us to spay her, and then she developed aspiration pneumonia which required mechanical ventilation. After two days on the ventilator, I was able to wean her off. It was incredibly rewarding!
What do you like to do when you're not at work?
I enjoy spending time with my husband and two children and we love to travel. Our goal is to expose our children to as much culture and different experiences as possible. Chicago is a great starting place!
Reviews
"My cat was very sick when we came to the hospital. I was not sure he was going to survive, but the doctors took a very good care for him. They were doing everything possible to make him live: lots of analysis, surgery, intensive care, etc. I'm very grateful for the work they did; I would like to thank Dr. Kara Osterbur especially for paying lots of attention to Maximus."
~ Natalia
"My Cavalier King Charles Spaniel ingested a human medication that, for her size, was potentially toxic. The services provided were thorough, expedient, and I have no complaints – my Jubi is alright today, because of the expertise and quick action of the Dr. Osterbur and the other doctors and technicians involved. Jubi is back home with me today."
~ Shari