Mark Howes, DVM, DACVR
Diagnostic Imaging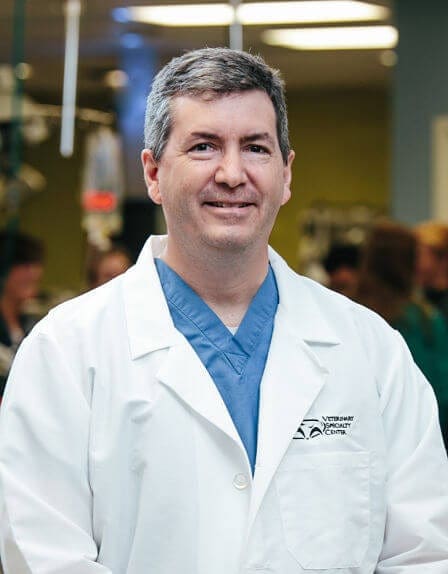 DVM
Residency
University of Illinois College of Veterinary Medicine
Certification
Board Certified by the American College of Veterinary Radiology
Professional Memberships
Dr. Mark Howes is a second-generation veterinarian who was inspired to follow in his father's footsteps after watching his father help families in his hometown with their pets and livestock. He saw first-hand how important it was to be a veterinarian and wanted to help both people and animals. He was a general practitioner for 21 years including 13 years as the owner of Berglund Animal Hospital in Evanston.
Why did you choose to specialize in diagnostic imaging?
During my 21 years as a general practitioner in private practice, I developed an addiction to the ultrasound and came to completely depend on it for my daily practice. I was determined to focus in on imaging for the second half of my career.
What is the most important aspect of your specialty?
I think it is working together with the other specialists, as a team, to solve their complex clinical questions through non-invasive imaging.
What motivates you?
I am motivated by the fact that this is a rapidly expanding field, and to thrive I'll need to keep learning every day.
What are your interests away from work?
I love playing golf with my daughter, Sarah, as she gets ready to begin her collegiate golf career. We also love to travel to National Parks for hiking and fresh air. Lastly, I have my private pilot's certificate, so I'm planning on combining all my interests in the near future!