Mimi Noonan, DVM, DACVIM
Internal Medicine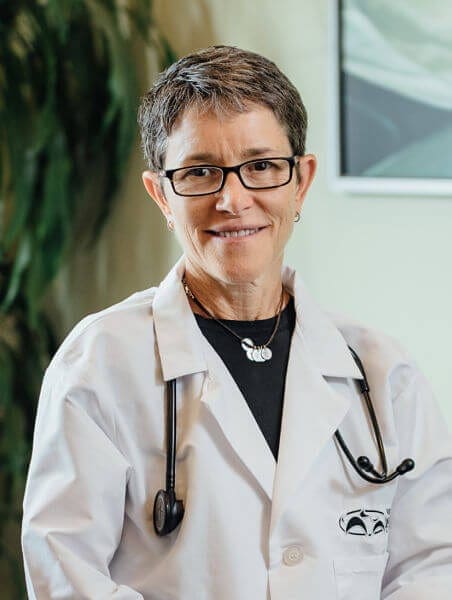 DVM
University of Illinois (Urbana-Champaign, IL)
Internship
Animal Medical Center (New York, NY)
Residency
Animal Medical Center (New York, NY)
Certification
Board Certified by the American College of Veterinary Internal Medicine
Professional Memberships
Dr. Mimi Noonan has been a veterinary internist since the early 1990s and still loves coming to work each day. She is well known for her energy, love for her patients, hard-earned communication skills and passionate community activism. Mimi is the "team mom" for her local high school's cross country and track teams. She starts her appointments at the crack of dawn so she can be there for all team events. Mimi also serves as a board officer for the Greater Illinois Pediatric Palliative Care Coalition, a cause very dear to her heart. She speaks at numerous conferences each year about both veterinary and non-veterinary topics.
Lasting Experience
One of my recent interns told me that ten years earlier she brought in a beloved pet when she was a teenager. She told me she was thinking of becoming a veterinarian, so I brought her with as we performed an ultrasound and diagnosed a tumor, which was successfully removed. The dog lived to see her enter veterinary school. It was deeply rewarding and incredibly humbling.
Respect for Animals
Animals have an inherent value on this earth, independent of whether or not they have been lucky enough to find someone who respects that. Every animal, whether it is loved by a wealthy family or found abandoned on the side of the road, deserves to be treated gently and lovingly, and fear and suffering should be minimalized by any means possible.
The Bond Between Human and Animal
I love being a veterinarian because I respect the bond that people share with their pets. Nothing is more joyful than sending a pet home feeling better. I enjoy working at VSC because I love working with talented, brilliant doctors and nurses who share the same philosophy of respect for animals.
Reviews
Our pet has been treated by Dr. Noonan at VSC for years. Keiko has undergone multiple blood transfusions and hyperbaric oxygen therapy. Dr. Robbins has done two previous knee surgeries, stem cell extraction and stem cell injections. I cannot say enough about the care Keiko has received from Drs. Noonan and Robbins and their tech staff – they are absolutely incredible and without equal.
~ Kirsten
The care provided was excellent. I was allowed to bring her in as an emergency and not as a referral from my local vet. That saved some critical time. My cat is making some progress and seems more comfortable.
~ Susan
Everybody at VSC was wonderful. We were updated every step of the way and got to visit with our puppy when we were there. Dr. Mimi Noonan was so knowledgeable and had an excellent bedside manner. She explained things to us extremely well. Her nurse and both techs were also amazing. We are so relieved that he was in such good hands and is feeling better!
~ Angela
Dr. Noonan and Desiree, her tech, took great care with my beloved pup Russell. I appreciate the compassionate, integrative and thoughtful approach Dr. Noonan took to address his health concerns.
~ Caryn
Mimi Noonan has gone above and beyond what you would expect and we couldn't be more appreciative. She is such an out of the box thinker that you always know she will do WHATEVER it takes to give your pet the highest quality care. One of the greatest things she did for us was to send us pictures and video to reassure us while our dog was in recovery after her amputation since it wasn't yet appropriate for us to come visit. Not only did this help put our mind at ease but it helped prevent our little girl from getting all excited and then depressed like a visit may have done during that critical recovery time. I can not think of one thing that Veterinary Specialty Center could do any better, just keep up the great work!
~ Ryan
Your facility is top of the line! Every staff member that I spoke to on the phone and came into contact with were courteous, kind and efficient. Dr. Noonan and her technician Courtney were amazing! Very knowledgable and very reassuring. I knew our kitty was in very good hands. Thank you for making our visit a very positive experience.
~ Holly
Dr. Noonan has been great to work with, she always kept us well informed about Rosie's condition and has a lot of compassion for the animals and families she works with. We knew that Rosie was in great hands and appreciate the hard work of your staff.
~ Abigail