Robert Armentano, DVM, DACVIM
Internal Medicine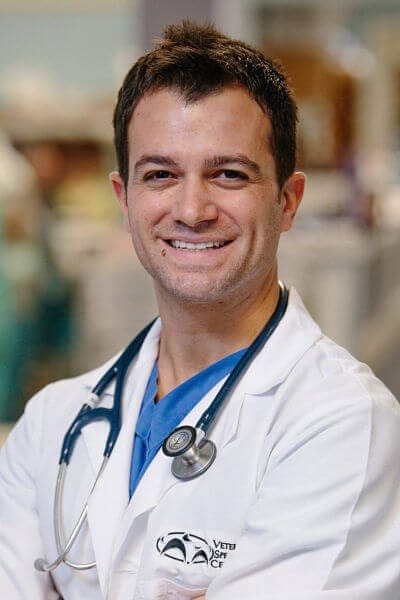 DVM
University of Illinois (Urbana-Champaign, IL)
Internship
University of Florida (Gainesville, FL)
Residency
University of Florida (Gainesville, FL)
Certification
Board Certified by the American College of Veterinary Internal Medicine
Professional Memberships
Dr. Armentano takes every opportunity to learn from each of his cases. He appreciates the experiences that his patients and their families provide.
What is your philosophy of patient care?
The most important dimension of great patient care is compassion and client education and communication. I truly value the importance of doing whatever is required to educate my clients so they can make the best decision for their pet and family.
What is the best way to adapt to each situation?
I do not feel that there is one approach that works for every client/patient. I try to adapt to each situation. No question is too trivial and I am happy to spend whatever time is needed for my clients to feel comfortable and confident when making important decisions for their pet.
What inspires you most about your job?
I always strive to improve my professional skills by the continual reading of the most up to date literature and attending continuing education events. I am truly passionate about the advancement of the field of veterinary medicine and providing the most current diagnostic and treatment plans available.
Reviews
You couldn't have done better. My Bellie and I are always treated so kindly during our visits. Dr. Armentano has such a calm spirit that he puts us at ease. We understand our girl has significant issues but with Dr. Armentano's professional problem solving we are hopeful that we can give her good days for a longer period of time. Each worker from the moment we enter smiles and praises Bellie. Thank you so much!
~ Shari
I have noticed how each person interacted with me and every other patient's person with warmth, patience, empathy, hopefulness. I also appreciated the several detailed explanation and conversations I had both with Dr. Armentano and each ER doctor from our previous visit. They took the time to make sure I understood each detail without looking at their watch. I felt very respected and embraced.
~ Lorra
Dr. Armentano and his team are always great. We've been coming to VSC for about a year now for a recurring issue with my pet. They have always provided great service and care while also taking the time to fully explain and answer any questions we may have. They go above and beyond with the doctor even taking time to answer questions when he is out of the office.
~ Zach
You are all fantastic! But Dr. Armentano is the bee's knees. He is uber-smart, thorough, intuitive and I can see he genuinely loves my cats. I'd like to think I'm special, but I imagine he is that way with all his clients and their pets. I am so grateful.
~ Susan
Dr. Armentano explains things so well! He takes time with us to make sure we understand, answers all of our questions in detail, and gives us options so it is our decision what to do. I really appreciate his expertise. He is truly an asset to VSC. Dr. Armentano's vet tech is also very pleasant to deal with. She's so loving to Artie and also listens to us completely and is so easy to talk to. I'm really comfortable with this team of professionals.
~ Nancy
We LOVE, LOVE, LOVE Dr. Armentano. He is GREAT!!! He has been treating our dog for a number of years. He is thoughtful, patient, kind, and does a wonderful job explaining our options and answering all of our questions. We trust his judgment 110% and are so glad we found him. I wouldn't want to see anyone else for our doggy's issues. Staff is super nice as well. I give Dr. Armentano an A+++.
~ Jill
Everyone was very kind and professional. It made me feel Bella was in good hands. Both Sara and Dr. Armentano went to great lengths to keep me informed and to make sure I understood every procedure that was done.
~ Joe