Kathryn Kuhns, DVM, Residency-trained in Surgery
Surgery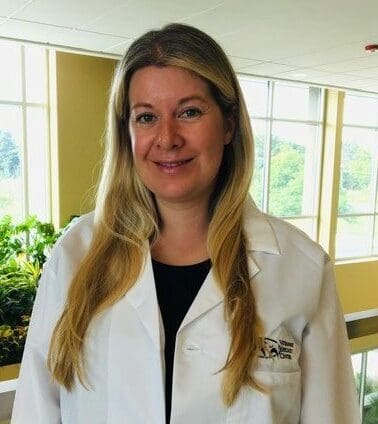 DVM
St Georges University in Grenada West Indies
Clinical Year
University of Florida College of Veterinary Medicine
Internship
The Animal Medical Center (New York)
Surgical Internship
Gulf Coast Veterinary Specialists
Residency
Veterinary Specialists and Emergency Services (Rochester, NY)
Professional Memberships
American Veterinary Medical Association
American College of Veterinary Surgeons
AO Vet
Dr. Kathryn Kuhns was fortunate enough to see first-hand the difference a veterinarian can make not only in the lives of pets directly but also in their owners' lives and wanted to be able to contribute to my community in a similar way.
Why did you decide to specialize in Surgery?
I like to be able to address a problem directly and be able to see a positive outcome right away. Being able to alleviate pain and suffering in such an immediate way is so gratifying.
What are some of the biggest challenges in your area of expertise?
Some of the biggest challenges in my opinion are tackling complicated cases with an uncertain prognosis. It's during these times when clear communication and teamwork between the referring veterinarian, owner, and specialty practitioner is especially valuable and important.
Is there a particular area of surgery that you prefer to focus on?
My special interests include soft tissue cases, oncologic surgery, fracture repair, and neurosurgery.
What do you like to do outside of work?
Outside of work, I love to travel and spend time with my husband Ben and our two dogs – a Golden Retriever named Jasper and a Bernese Mountain dog named Louise