Barb Gertz, DVM
Emergency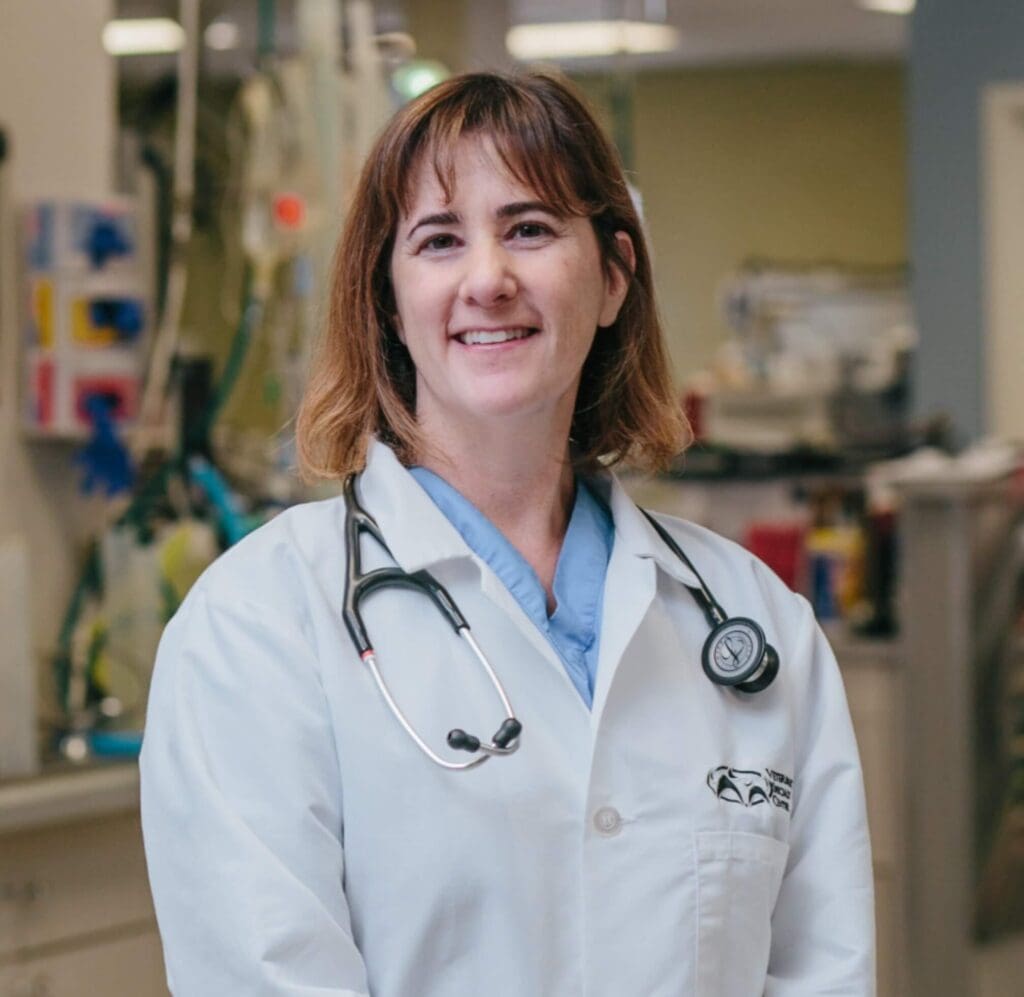 DVM
University of Illinois College of Veterinary Medicine
Internship
Georgia Veterinary Specialists (BluePearl Pet Hospital), Sandy Springs, GA
Professional Memberships
When Barb Gertz was two-years-old, her family adopted an incredible dog that would be by her side for the next 14 years. At the end of his life, however, she found herself wanting nothing more than to help him feel better. Fast forward to the veterinarian she is today and you will still find her with the same motivation, compassion and love for helping as many animals as she can.
What sparked your passion for emergency medicine?
After vet school, I was afforded the opportunity to complete an extensive internship that opened my eyes to a myriad of cases and the exciting world of emergency medicine. Although I dabbled in general practice medicine afterward, it was only a matter of time before I realized how rewarding the emergency environment was for me and returned to it. Working at Veterinary Specialty Center makes it even more incredible because it allows for direct access to our specialists and for testing and treatments to be done faster than anywhere else, which can be a huge advantage for patients that might otherwise have had poor outcomes.
What are some of the biggest challenges in your area of expertise?
One of my biggest challenges in veterinary medicine is balancing what is best for patients versus what owners are able to do for their pets. I want to do everything possible to have the best outcome for each of my patients, but it is not always a realistic option for owners. Another challenge is meeting the client's expectations when it comes to predicting outcomes. When it comes to a pet, most clients want to do everything possible to help their pet recover. However, they also want to know that if they move forward with recommended care, their pet will make full recovery. Unfortunately, that is usually very difficult to predict. The goal is to have a positive outcome and despite all of our best efforts, the individual patient's health and circumstances do not always cooperate.
Is there a particular case that has inspired you?
There is a hand full of cases that stay with me as true miracles. The most recent one was a dog that had been hit by a car and broke his back. His family courageously pushed forward in spite of both financial constraints and a very poor prognosis that he would ever walk again. Today, however, that very lucky dog is able to walk and run like nothing ever happened. This was truly inspirational given the extent of his injuries and poor neurologic condition when he presented to our ER. This definitely reminds me to never give up!
What do you like to do outside of work?
I like to spend my free time with my family, which includes 2 greyhounds and a black and tan coonhound. Routinely, you can find our entire family exploring open spaces all over since we are also always up for nice, long road trips. It is so rewarding to see my pups enjoying the outdoors! My one girl loves K9 nose work as well, which has given her the confidence and excitement to explore new places! I also like to work out, read, cook (I have a gadget addiction) and go out to new restaurants.